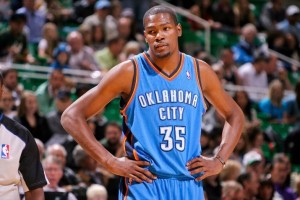 Um….
Er…
Sure.
Kevin Durant and trade don't go together in the same breath or sentence or room or shared sides of the globe. Not unless you're referencing his opinion on a different deal, one the Oklahoma City Thunder pulled off or otherwise. For example, one such headline might read, "Kevin Durant Thinks Thunder Trading for Steve Novak Guarantees NBA Title." That sort of thing.
Never, ever have we singled him out as a trade candidate.
Until now.
Speaking with ESPN's Colin Cowerd on The Herd, former Portland Trail Blazers vice president and current ESPN NBA analyst Tom Penn broached the possibility of a Durant trade ahead of his free agency next summer. Here's the low-down on the entire conversation, brought to us by The Big Lead's Jason McIntyre:
I think this burst from Westbrook makes it likelier – much more likely – that Durant ultimately gets traded next year. [Colin Cowherd explodes.]

Sam Presti has proven that he does not ever want to lose anybody for nothing. He traded James Harden a year early to avoid a potential luxury tax problem a year later.

The Kevin Durant drumbeat next year is going to be so loud … he will not commit early to OKC because the rules are against that.

If Sam Presti doesn't that get that commitment, he'll look to trade Kevin Durant. Looking at the performance of Westbrook and the team around Westbrook will make it easier for him to do that, potentially.
The logic here is sound.
Losing superstars for nothing in free agency has become unpopular. If you cannot or will not re-sign them, you trade them, a la Carmelo Anthony, Dwight Howard, Chris Paul, Kevin Love, Rajon Rondo, etc. It would only make sense that the asset-conscious Thunder follow the same protocol, as they did with James Harden and, to a non-star degree, Reggie Jackson.
But something about even entertaining this idea will rub many of us the wrong way. The Thunder? Trade KD? That's not going to happen.
Really, it probably won't. McIntyre shrewdly points out what it took for the Thunder to deal Harden, and Durant would cost even more. He's a top-three player (yes, Anthony Davis is the NBA's second-best player these days) and perennial MVP candidate. Even with the threat of his free agency looming large in negotiations, the Thunder would hold all the leverage knowing how transcendent he is. Their demands would be higher than high, and rightfully so, increasing the likelihood that no team is able to meet their asking price.
What do you even ask for anyway? Picks? Prospects? A combination of impact players who help Russell Westbrook win now? Cap flexibility?
Probably some version of all those things. But we're getting ahead of ourselves. Nothing emanating out of Oklahoma City or even Durant's mouth suggests this is even remotely a possibility. If it is, we won't start to hear more about it until the offseason, when these types of things begin to take shape.
For now, just know that the idea itself isn't crazy. It's unlikely. Pipe dream-y, even. But the concept behind it, however seemingly bizarre, makes sense.