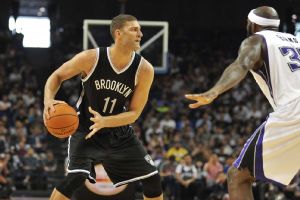 Brook Lopez, who speaks fluent cowabunga, is building a house on the Disney World grounds.
Not near or around or in the general vicinity of.
ON.
From the New York Daily News' Stefan Bondy (h/t Eye On Basketball):
Nets center Brook Lopez, 26, a longtime Disneyphile with a Goofy figurine in his locker, told the Daily News that he is building a luxury home on site at his favorite Orlando resort.

"My older brother Chris sent me a link when the property development was first announced three or four years ago now," Lopez said. "We joked about doing it. As it got more real and real, I just decided I wanted to do it."

The opportunity arose with the advent of Disney's sponsored Golden Oak — a 980-acre real estate development on the grounds of the theme park. Home ownership in the gated community starts at $1.8 million and, according to the Wall Street Journal, houses have sold for as much as $7 million with hefty annual fees. It is popular amongst wealthy Brazilians.

Lopez said construction on his place will begin in a couple months and it should be ready in about a year and a half.

"I'll be living there in the offseason," he said. …

pass to all four of Disney World's theme parks with free shuttle service. There's also the option to decorate the home with "hidden Mickeys" — small mouse ears emblazoned on walls, ceilings or railings. This past holiday season, Golden Oak residents partied with Anna and Elsa from "Frozen."
This is awesome.
And not at all surprising.
BroLo is a comic book, cartoon character guy. It's only fitting he jumps at the opportunity to build a house on the grounds of the happiest place on earth. And shit, think of the tax break he gets. He acknowledges how much cheaper it is to build a house in Orlando compared to New York.
If you think about it, then, this is just a smart investment.
Lopez can party in the theme parks during the offseason, yucking it up with Mickey and Goofy and Pluto and Donald Duck. Then, when he's older and retired from the NBA, maybe he can get work as a churro vendor in Magic Kingdom.
Think of how much the house will be worth if he ever tries to resell.
"Former 7-Foot NBA All-Star Puts Disney World-proximate Mansion Up for Sale."
The bids would come in by the hundreds.
But that's getting ahead of the game. Lopez's home isn't even ready yet.
In the meantime, we're left to imagine what it will look like. My guess is it's some hybrid lair that'll seem like Cinderella's castle was invaded by an army of Toy Story characters.