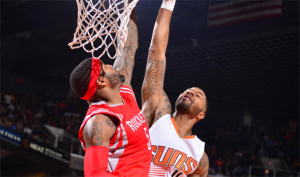 It was an intense up-tempo match between the Rockets and Suns on Tuesday night as both teams were clearly playing with a sense of purpose. However, James Harden decided to explode for 20 points in the final period to lead his team to victory with the final score of 127-118, finishing with a game-high of 40 points.
But despite this loss—the highlight of the game belonged to the Suns when forward Markieff Morris decided to elevate for an emphatic one-handed dunk over the contesting Josh Smith in the second quarter.
Please enable Javascript to watch this video
Smith probably didn't see that one coming from Morris, who's not really known to be an explosive player. But nonetheless, that was impressive.
Rest in peace, Josh Smith.
Benjamin Felix Santos is currently a senior college student from Manila, PH. An aspiring NBA writer, who bleeds the purple and gold. His love and passion for the game will never die.