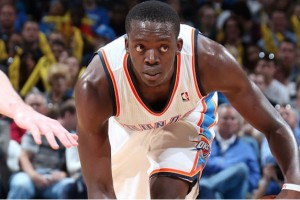 Reggie Jackson is the player the Knicks almost had, even though they never really had him.
Twitter was aflutter when the three-team deal between the Knicks, Cavaliers and Thunder began unfolding. Jackson was identified as the player the Knicks were taking back. But Twitter was wrong. The move was a salary dump; the Knicks gave up Iman Shumpert and J.R. Smith for basically nothing.
Fast forward to Tuesday, and Jackson's link to New York isn't quite dead.
From CBS Sports' Ken Berger:
The Knicks are expected to try to re-engage the Thunder in talks for point guard Reggie Jackson after being rebuffed in their efforts to land him in Monday night's three-team deal, sources say. Jackson would fit into the $2.6 million trade exception New York received in the trade with Cleveland and Oklahoma City, but the Thunder have been steadfast in rebuffing trade offers for the point guard.
Before we go on, the link doesn't end there either.
In the event the Knicks cannot trade for Jackson, they're apparently ready to pursue him in restricted free agency, according to ESPN New York's Ian Begley:
The feeling among some around the league is that the Knicks will instead target second- and third-tier free agents this summer and maintain some cap flexibility for the summer of 2016, when a free-agent class headlined by Kevin Durant becomes available.

One name to keep an eye on this summer is Reggie Jackson. NBA people expect the Knicks to have interest in Jackson, who can test free agency this summer. Jackson likely will be a restricted free agent. But with Oklahoma City having obtained Dion Waiters, the club may not break the bank to retain Jackson.

Certainly something to keep an eye on.
This makes perfect sense, because it doesn't make any sense at all, which is so Knicks.
If the Knicks can acquire Jackson for pennies on the dollar ahead of the February trade deadline, they should do it. He makes them instantly better, but not good enough to bilk the team of pingpong-ball swag. It also gives him the opportunity to prove he can exist within the triangle offense before commanding a lucrative contract in restricted free agency. Because that's the thing: Jackson, as of now, isn't a good fit for the triangle offense.
Yours truly won't pretend to understand the triangle in its entirety, but I—like most of you—know it's predicated on ball movement and wing-spacing. Point guards need to be more like Jose Calderon or Goran Dragic—playmakers who aren't wholly ball-dominant and can score off the catch. Jackson doesn't meet that criteria.
More than 82 percent of his made baskets have gone unassisted, per NBA.com. He's also shooting just 34.2 percent outside of eight feet and only 21.9 percent on catch-and-shoot opportunities overall, including 19.4 percent from downtown. That's not the kind of triangle-opposite skill set the Knicks can invest in. Not without testing it out first. At only 24, it's possible Jackson changes, but the Knicks would be forging a relationship mostly blind—even if they traded for him, since 40 or so games can hardly be considered a telling sample size.
Given the system the Knicks are trying to run, expect this rumor to die out completely. Jackson and the Knicks don't go together, and that's not going to change.
Dan Favale is a firm believer in the three-pointer as well as the notion that defense doesn't always win championships. His musings can be found at Bleacherreport.com in addition to TheHoopDoctors.com.