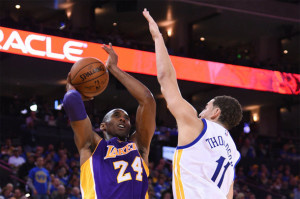 The Los Angeles Lakers went down 0-4 with the loss (127-104) against the Warriors last night, but once again (surprisingly), were able to make it interesting until eventually getting blown out late in the fourth quarter.
Well despite this loss, the highlight of the game came from the purple and gold, as the 36-year-old Kobe Bryant continued to prove that he can still play at a high-level by putting up 28 points which included a wild circus shot while getting fouled that left the entire oracle arena buzzing for awhile.
Check it out:
What a shot, indeed from the NBA's 40th best player. Right ESPN?
Benjamin Felix Santos is currently a senior college student from Manila, PH. An aspiring NBA writer, who bleeds the purple and gold. His love and passion for the game will never die.
Follow him on twitter: @biefsantos