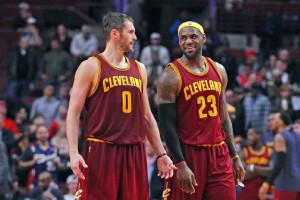 LeBron James wants you to shut up.
Basically.
In the wake of the Cleveland Cavaliers' 1-3 start, critics are coming out of the woodwork. Reports are surfacing. Hot takes are getting hotter. Rumors of discord between the King and Kyrie Irving are afoot. The Cavs' defense ranks 28th in efficiency. The offense looks disjointed at points. The world is ending. This is not the 2010-11 Miami Heat. These are the 2014-15 Cavaliers, a superstar-stuffed convocation fated for failure. There is no hope. Shave Kevin Love's beard. Throw a shower cap on LeBron. Tell Dion Waiters to shoot as much as he wants. It doesn't matter. This team is so, so, so, screwed. Like, really screwed. Never before have we seen a slopfest so catastrophic it only needed four games to prove it's a permanent train wreck. Returning to Cleveland was clearly the biggest mistake of LeBron's NBA ca—
Hold on. LeBron would like to interject for a moment:
In the words of the great @AaronRodgers12 "RELAX"

— LeBron James (@KingJames) November 6, 2014
Oh, snap. LeBron went full starting quarterback for the Green Bay Packers on his detractors. That's bold. That's crazy.
That…totally makes sense.
Few things of ample value are built in a day, or a week, or a month. Teams of substance often take time, they take patience. LeBron emphasized all of this in his cathartic return letter, wherein he basically pleaded with everyone at large to understand he wasn't expecting to win in Cleveland immediately.
It's easy to posit he was full of crap, of course. The Cavaliers traded for Love, which is a very win-now move. Still, instant perfection was never really an option. It wasn't for the Heat four years ago, and the Cavaliers are no different. If anything, the Cavs' situation is more convoluted because of how young Love and Irving are. They might not have been prepared to make the same sacrifices as Bosh and Wade did. The latter—and probably the former, too—brought LeBron to Miami. Irving didn't choose to play with James, and it was James who recruited Love. The psychological battle, then, isn't as far along this time around. The Heat's formation was premeditated. Acceptance of roles wasn't instantaneous, but it was in more advanced stages.
Things will gradually get better for the Cavaliers like they did for the Heat. It could take 10 games, it could take 20.
It could take 50 or more.
We don't really know.
When everything comes together, though, it should be fantastic. The offense should be historic. The chemistry should be unfathomable and rumor-proof. The defense—well that will still probably suck.
Until then, everyone should heed LeBron's words, including himself and his teammates. Titles aren't typically won during a core's first go-round together. The Cavs, while talented, face an uphill climb. These early-season follies are their Everest—a peak they won't successfully reach without diligence, grit, patience and, yes, a wee bit of chill pills.
Dan Favale is a firm believer in the three-pointer as well as the notion that defense doesn't always win championships. His musings can be found at Bleacherreport.com in addition to TheHoopDoctors.com.