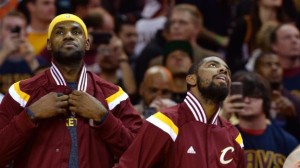 Dissension already? That certainly didn't take long. According to ESPN's Brian Windhorst, Kyrie Irving and LeBron James exchanged words a few nights ago in the locker room after a blowout loss to Portland. After four games, there are many theories as to why the Cavs have started slow but in reality, this had to have been expected.
The good news for Cavs fans is that this confrontation is regarded as "healthy."
LeBron James and Kyrie Irving exchanged words in the Cleveland Cavaliers' locker room following the team's 20-point loss to the Portland Trail Blazers on Tuesday night, and it led to Irving leaving quickly without speaking to the media, multiple sources told ESPN.com.

The discussion was seen as healthy, sources said, with the veteran James voicing concerns about the direction of the Cavs' offense.