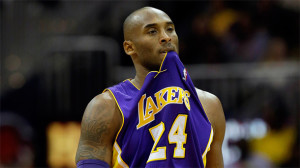 Is there anyone in the world more excited to see Kobe Bryant get healthy than John Havlicek?
Why you might ask? Mainly because Havlicek has been holding onto the unenviable record for most missed field goals ever in the history of the NBA.
And Kobe Bryant is only 99 misses away from breaking the record. Provided Kobe doesn't get hit by a bus, he will likely get there.
Not to take away from the numerous accomplishments of the 5-time NBA Champion Kobe Bryant, but it is still a record I'm assuming he'd rather not have on his resume. He's a volume shooter yes, but I'm sure it stings to have less field goals made than Shaquille O'Neal, and nowhere near Michael Jordan. Since Kobe is in reach of the all-time point leaders, begs the question of where the points came from. Free throws? Three-pointers?