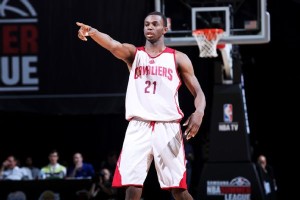 As if Andrew Wiggins' life wasn't already oceans of awkward.
Kevin Love has been traded from the Minnesota Timberwolves to the Cleveland Cavaliers, according to Yahoo Sports' Adrian Wojnarowski. But he hasn't really been traded, because Wiggins himself cannot be traded until August 23 after signing his rookie deal. So the deal is done, but not done. Cool.
Said not-deal, but-soon-to-be-deal has Wiggins, Anthony Bennett and a protected first-rounder going to Minny. Awesome. That's kind of, sort of, a good haul for Flip Saunders and the Wolf pack, though if we're to take Woj's report verbatim, the Timberwolves haven't yet found a way to unload one of their less flattering contracts. But whatever.
The real news may—emphasis on "may"—be that Wiggins didn't even know until speaking in passing with ESPN's Tim McCormick.
Exhibit A, courtesy of Bleacher Report's Benjamin Cruz:
Lol RT @TMcCormickESPN: Just Spoke to Andrew Wiggins – Said Congrats on trade to T-Wolves – He said I didn't know, is it final? Wow

— Benjamin Cruz (@cruzkontrol) August 7, 2014
McCormick has since deleted the tweet, so we don't know if he was kidding or if Wiggins was kidding or if this was something serious that the Cavaliers/Timberwolves/ESPN didn't want him talking about. If true, this seems typical, which makes me thinks it's true.
Why do I think it's true?
Turn your attentions to the incredibly awkward interview Wiggins did on live television below:
Yup, weird. And from what Wiggins says, he knows what we know, nothing more. Whether you believe him or not is your decision. Smokescreens are everywhere at times like these, with rumors and speculation running rampant, taking on minds and lives of their own, consuming our every waking and/or web-surfing moments, like we wouldn't rather be searching for tie die shoes, videos of surfing pigs and recipes for fried vampire squid. All the deflection can be utterly ridiculous. Calling them smokescreens might not do any of this justification. They're more like shitscreens. Yeah, let's call them shitscreens.
Anyway, Wiggins doesn't appear to be in the know during that interview. If he is, he's not letting on, and is a damn good actor—damn good shitscreen-er, if you will. But there's also the distinct possibility the Cavaliers weren't telling him jack. Head coach David Blatt pretty much came out after the draft and said Wiggins wasn't going anywhere, after all. Then Wiggins was all of a sudden available. And then there's this.
However Wiggins found out is almost irrelevant. It doesn't seem like communication between his camp and the Cavs has been top notch. Either that, or he needs to fire his agents for not giving him the lowdown soon enough, because at times, he's seemed completely in the dark.
That doubles the cruelty of his initial NBA days. He hasn't even played in a real game yet, and he's being used as superstar bait. It's both flattering and unbecoming, a testament to his talent and completely disrespectful. Worse still, nothing is official yet. Wiggins has more than two weeks until he can be officially traded, so he has to slog through another 14-15 days of not knowing where he'll actually be playing.
Sure, it looks like he'll be in Minnesota, exploring his snow-tubing options. But things change—like Wiggins' untouchable status for instance. He was in Cleveland yesterday, is gone today and could be back tomorrow. That's what this feels like. Watever Wiggins knows isn't actually knowledge. It's a possibility, a likelihood. Nothing is reality. Not yet.
Not until August 23, when, hopefully, Wiggins can start putting his ambiguous on-again, off-again NBA grind to bed and start focusing on actually playing rather than who he may or may not be playing for.
Dan Favale is a firm believer in the three-pointer as well as the notion that defense doesn't always win championships. His musings can be found at Bleacherreport.com in addition to TheHoopDoctors.com.