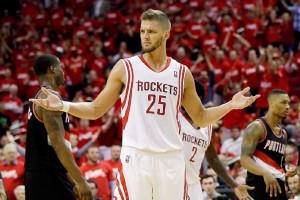 Daryl Morey wants you to know you're freaking crazy, Mark Cuban.
That's basically what the Houston Rockets' general manager implied of the Dallas Mavericks and their fearless, outspoken owner and their pursuit of Chandler Parsons—who they successfully signed, mind you, but not without paying a steep, above-market price.
Here's what Morey told KBME-AM 790 in Houston of Parsons' three-year, $46 million deal with the Mavericks, per The Dallas Morning News' Eddie Sefko:
"The contract (Parsons) got…the Mavericks are a smart organization; they obviously wanted to get him…that structure of that (contract) is literally one of the most untradeable structures I've ever seen."

…

Of course, as SportsDay's Eddie Sefko points out, it's only an "untradable" contract if someone desires Parsons be traded. No one in the Mavs' organization intends to trade Parsons. Mavs president of basketball operations Donnie Nelson echoed that sentiment Monday on KESN-FM 103.3.

"We're not looking to move (Chandler Parsons). We hope he's here for a long, long time," Nelson said. "In terms of the trade-ability, we've had some pretty interesting contracts in past and were able to get off of them. So I don't think there's such a thing as an untradable contract. But that's clearly not the spirit of which we're doing this."

Morey said the Rockets have a "better chance" to win an NBA title without the constraints of Parsons' contract. Armed with salary-cap space, a trade exception and a favorable draft pick, Houston is in the market to find Parsons' replacement.
So much weird to this.
The Mavericks clearly aren't looking to trade Parsons. Few teams go into free-agency signings looking at them as four to six month investments they will try to trade later. And when they do, they don't egregiously overpay said player the way the Mavericks did Parsons, who's projected to earn 1500-1600 percent more next season than he did last year.
That is not a misprint.
Parsons will earn a salary comparable to James Harden. Think about that. The Mavs are taking a risk here—one they, unlike many others, can afford to take.
Dirk Nowitzki's new deal gives them this ability. Players of his caliber, even at his age, don't sign for just three-years, $30-million. When you combine his and Parsons' salaries for next year, the Mavs won't be paying them more than $25 million combined. It will probably be even less. That's good value for those two players, and it's all because Nowitzki accepted a massive pay cut.
For the Rockets, Parsons' was a contract they couldn't match in good conscience. Overpaying Parsons is different when he's your fourth option and you're already maxed out from paying Dwight Howard, Harden and Carmelo Anthony or Chris Bosh. But when he's your third option, taking up valuable room you can use on depth, it's a deal-breaker.
That doesn't make Parsons' contract any easier to trade as it wears on, by the way. The Mavs are likely stuck with him for the next three years, which is fitting, since that's how long Nowitzki signed for.
And so long as his discounted salary is on the books, Parsons' doesn't seem so bad, even if they cannot move him.
Dan Favale is a firm believer in the three-pointer as well as the notion that defense doesn't always win championships. His musings can be found at Bleacherreport.com in addition to TheHoopDoctors.com.