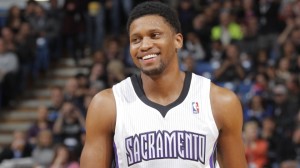 The Sacramento Kings have a talented young core but it's impossible to notice them in the Western Conference. Along with DeMarcus Cousins and Isaiah Thomas, Rudy Gay can serve as a building block. That became even more true with the news that Gay would opt-in with the Kings for next season.
Because he's still working on that summer of 2010 contract, Gay is still getting paid handsomely and is now guaranteed $19.3 million next year.
Sacramento Kings forward Rudy Gay will exercise his $19.3 million contract option for the 2014-15 season, but has tabled extension talks until later this summer, league sources told Yahoo Sports.
H/T: Yahoo