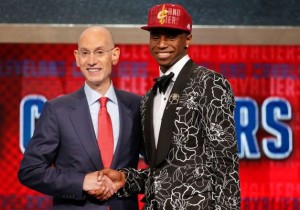 With the first pick of the 2014 NBA draft, the Cleveland Cavaliers selected the best gotdamn future-peddler to ever traipse his way up to the storied podium.
Andrew Wiggins.
Everyone who was worried that the Cavs would make the wrong decision this year is able to breathe. Wiggins was the right pick. For Cleveland, he was the only pick. Joel Embiid's a walking red flag with his current foot injury and history of back problems, not to mention the NBA isn't a big man's league anymore. Jabari Parker was considered the most NBA-ready player in the draft, but he's a one-way talent and the Cavs already have enough of those (Kyrie Irving, Dion Waiters, Tristan Thompson, etc.).
It had to be Wiggins. It just had to be. Unless the Cavs were trading down or foolishly trading for Kevin Love, it had to be Wiggins. And it was. And it's exciting. This kid can be something special, so long as he develops a killer instinct, or a knack for remaining passive yet dominant.
And who better to teach him the art of quiet brilliance than LeBron James, one of the all-time greats who's frequently chided for not espousing the same kill-or-be-killed mentality that Michael Jordan and Kobe Bryant are so often regaled for?
Wiggins apparently has the same idea. He's already talking the talk, exuding uncharacteristic bravado, recruiting LeBron for his new team, even if facetiously.
Ahem:
No. 1 Cavs pick Andrew Wiggins would be happy to welcome LeBron James back to Cleveland. » http://t.co/fZdJe8ceRC pic.twitter.com/k5Vqzwgoie

— SportsCenter (@SportsCenter) June 27, 2014
Yeah, that's awesome. LeBron sooooooo isn't going back to Cleveland this summer, but it's awesome.
Cavs fans should just be happy Wiggins is talking and displaying self-confidence like this:
No. 1 NBA Draft pick Andrew Wiggins: "You won't have to worry about (supposed lack of aggressiveness) next year."

— Sam Amico (@SamAmicoFSO) June 27, 2014
Golden. I like it. You should too.
But about this whole LeBron thing…It's not going to die. It most definitely should, but it's not going to.
Andrew Wiggins says he'd "obviously" love for LeBron James to return to Cavs. "He's a grown man. He'll follow wherever his heart is."

— Sam Amico (@SamAmicoFSO) June 27, 2014
Look, seeing LeBron play with Wiggins would be terrific. They're similar in so many ways, almost to the point you wonder if there would be too much of a talent overlap between them. But it's just not going to happen.
More likely than not, LeBron is going to stay with the Miami Heat. If he does wind up leaving, it won't be for the franchise he spurned four years ago that hasn't made the playoffs since.
Returning would certainly be easier on this legacy than, say, if he were to join the Houston Rockets or Los Angeles Lakers, but it's just too ridiculous a notion to legitimately consider.
Focus on Wiggins instead. He's been picked apart and criticized 86 different ways toward next Tuesday, but he's an athletic freak who projects as a dominant wing defender and all-everything scorer once he gets the mechanics on his jump shot down and learns to attack the rim with more ferocity on a consistent basis. There's a dash of point-forwarding in him, too, if you're into that sort of thing.
Yes, Thursday was a good night for the Cavs. A very good night. They drafted Wiggins. They got their guy. And while they're still not going to get their other guy, at least they know this quiet, shy guy has jokes.
Dan Favale is a firm believer in the three-pointer as well as the notion that defense doesn't always win championships. His musings can be found at Bleacherreport.com in addition to TheHoopDoctors.com.