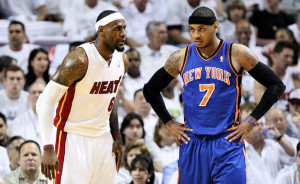 Hand it to the Phoenix Suns. They're ambitious.
Probably too ambitious.
Okay, most definitely too ambitious.
According to Yahoo Sports' Adrian Wojnarowski, the Suns plan on pursuing a Carmelo Anthony-LeBron James dyad this summer in free agency:
Armed with an offer that no else in the NBA can make – a chance to partner with Carmelo Anthony on an instant championship contender – the Phoenix Suns are planning an aggressive pursuit of LeBron James on Tuesday, league sources told Yahoo Sports.

Suns officials understand the bid will be something of a long shot, but are determined to get a meeting with James to convince him how the possibilities of two full max contracts, a roster stocked with talented, young players and the chance to pick the superstar free-agent partner of his choice ought to make Phoenix one of his most appealing suitors.
General manager Ryan McDonough's acid trips are the best acid trips.
The Suns are certainly in position to make a splash this summer, just not that kind of splash. Never mind that Phoenix isn't the sexiest market and won't appeal to Anthony, an open seeker of big markets. Financially, it's just not feasible. Not if the Suns are planning on keeping Goran Dragic and Eric Bledsoe.
Let's be optimistic and say the Suns are able to dump everyone on the roster, save for Bledsoe, Dragic and their three first-round picks. One of those first-round picks can be stashed, so let's assume they do that. The other two first-rounders combine for roughly $3 million in cap hits. Toss in Dragic's $7.5 million salary and Bledsoe's restricted free-agency cap hold (almost $6.6 million), and you're left with $17.1 million committed to four players. Throw in at least another $3 million in minimum cap holds and the Suns eclipse $20.1 million.
With the salary cap projected to reach $63.2 million next season, it would seem that the Suns can easily offer max deals to both LeBron and Melo—you know, if unloading pretty much your entire roster without receiving anything back in return were considered easy. (Spoiler: It's not.)
Signing both LeBron and Melo is a pipe dream, as is inking one of them. The Suns can most definitely max out someone this year, and with the way the rest of their contracts are structured, they might even be able to create max-contract space for summer 2015. But creating two max-contract slots this year is asking too much.
If they're somehow able to do it, more power to them. They won't, though. They aren't going to gut their roster to epic proportions for a shot at landing two players they likely won't land anyway.
Take this—if you take it as anything—as an embraceable sign of ambition. The Suns aren't pinching pennies or skirting free agency. They're active. Involved.
Ready to strike.
At some point this summer and/or next, they may, in fact, strike. Said strike just won't include them staging this kind of free-agency coup d'état.
Dan Favale is a firm believer in the three-pointer as well as the notion that defense doesn't always win championships. His musings can be found at Bleacherreport.com in addition to TheHoopDoctors.com.