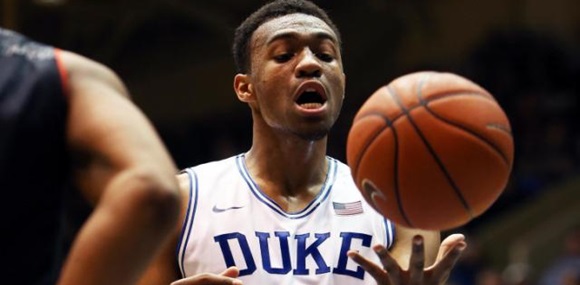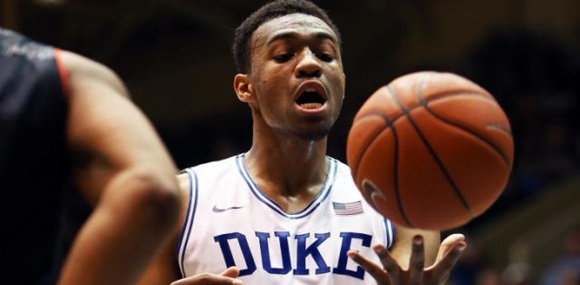 We are only days away from the much anticipated 2014 NBA Draft and there has been a shake-up at the top now that potential #1 selection Joel Embiid has had foot surgery and will be out for a minimum of 4-6 months.
Now it appears as if Cleveland will now select either Andrew Wiggins or Jabari Parker with the number one selection and it will be interesting to see just how far Embiid will fall.
Players like Efrid Payton, Rod Hood, and Dante Exum are said to be on the rise as Julius Randle, James Young, and Embiid are rumored to be sliding as we approach Thursday's draft.
These are only my choices and not the consensus picks of all of The Hoop Doctors writers, with that said here is my 2013 Mock Draft:Version 5.0 – The Final Cut
Draft Order
College Team
Player
Position
Physical

1.

Cle


 Duke
Jabari Parker

SF/PF
6'9   240lbs   Freshman

While Wiggins remains an option at #1, Cleveland wants to win now and Parker is the most NBA ready prospect in this year's Draft.

2.

Mil


 Kansas
Andrew Wiggins

 SF
6'8   200lbs   Freshman

Undoubtedly the player with the highest ceiling now falls to the Bucks, although they already have the "Greek Freak" at the same position.  Rumor has it that Dante Exum could be in play here as well.

3.

Phi


 Kansas
Joel Embiid

 C
7'0   250lbs   Freshman

Supposedly the farthest Embiid would fall is to 6 or 7 to Boston or LA, but Philly has a history of waiting on talented big men like Bynum and Noel before him.  Teaming up Embiid with Noel could be the 2nd coming of the "Twin Towers", barring a Sixers trade to move up, or they select Exum at #3.

4.

Orl


Australia

Dante Exum

 PG/SG
6'6   196lbs   Intl

Pairing Exum with Victor Oladipo seems like a no brainer, giving Orlando one of the best young backcourts in the Eastern Conference.  If Exum goes #2, Embiid could be in play here as well.

5.

Utah


 Indiana
Noah Vonleh

 PF
6'9   245lbs   Freshman

The Combine wonderchild is filled with potential and now is ranked ahead of other forwards like Randle and Gordon.  He has NBA size and athleticism, and could be a real hidden gem of the draft long term.

6.

Bos


 OK State
Marcus Smart

PG
6'3   227lbs   Sophomore

With tradewinds swirling around Rajon Rondo, the Celtics are high on Smart, a big bodied PG that defends and has outstanding leadership qualities.

7.

LAL


 Arizona
Aaron Gordon

 SF/PF
6'9   220lbs   Freshman

The Lakers are said to be very high on either Smart or Gordon, but it's doubtful that Smart lasts past 6.  Gordon could be the 2nd coming of Blake Griffin as a super athletic PF that is one of the youngest players in this year's draft.

8.

Sac


Kentucky

Julius Randle

 PF
6'9   250lbs   Freshman

Amid concerns about a screw limiting his mobility still in his foot, Randle may slide a bit, but pairing him with another Kentucky big man DeMarcus Cousins would make for an imposing frontcourt going forward.  With Isaiah Thomas' contract situation, the Kings could take a gamble witht he fast rising Efrid Payton at #8.

9.

Cha


Creighton

Doug McDermott

 SF
6'7   220lbs   Senior

Adding offensive minded NCAA POY McDermott to an already good Playoff squad that features Al Jefferson down low would be a no brainer.  "McBuckets" could either evolve into the next Larry Bird………or Kyle Korver.

10.

Phi


 Michigan
Nik Stauskas

 SG
6'6   207lbs   Sophomore

The Michigan sharpshooter is one of the premier perimeter players in the draft and would be a great offensive option next to reigning NBA ROY Michael Carter-Williams.  Of course, a lot is determined here depending on what the 76ers do at #3.

11.

Den


 Mich St
Gary Harris

 SG
6'4   205lbs   Sophomore

Arguably the most complete 2 guard in the draft, Harris can both score and efend with the best of them.  He may not have a superstar upside but should be a solid contributor for the next decade.

12.

Orl


 Croatia
Dario Saric

SF/PF
6'10   220lbs   Intl

With rumors that he's about to sign a 3 year deal to remain in Europe, Saric's stock may be slipping.  Nonetheless, he's a super talented offensive player in the mold of Dirk Nowitzki, meaning he won't slide far.

13.

Min


 UCLA
Kyle Anderson

SF/PG
6'9   230lbs   Sophomore

It appears as if Minny will be losing the services of All Star Kevin Love sooner rather than later.  Adding a multi-talented point forward like Anderson would be a smart move.

14.

Pho


Duke
Rod Hood

 SF
6'8   208lbs   Sophomore

With Channing Frye opting out, Phoenix will need more offensive firepower, meaning Hood could be in play here.  He was often overshadowed by Jabari Parker at Duke, but Hood has high potential as a sharpshooting 3 with great athleticism.

15.

Atl


NC State

TJ Warren

SF
6'8   220lbs   Sophomore

One of the most potent offensive players in this year's draft, Warren would be a great scoring option for developing PG Jeff Teague, considering they already have an All Star frontcourt in Al Horford and Paul Millsap.

16.

Chi


 UCLA
Zach LaVine

PG
6'6   180lbs   Freshman

It's no secret the Bulls need both insurance for the oft injured Derrick Rose and offensive firepower.  LaVine fills both as many have compared him as being the next Russell Westbrook.

17.

Bos


 Kentucky
James Young

SF
6'6   215lbs   Freshman

I'm not sure why the Kentucky product is sliding but the sharpshooting wing has been compared to both Ray Allen and Bradley Beal and is one of the top offensive players in the draft.  He would be an outstanding fit alongside either Rondo or Marcus Smart going forward.

18.

Pho


Boznia

Jusuf Nurkic

 C
6'11   280lbs   Intl

The imposing big man is an excellent draft and stash prospect to replace Miles Plumlee, who is better served as a back-up.  The dominating big man reminds many of another Nikola Pekovic, making him a perfect compliment to the more mobile Alex Len.

19.

Chi


 Mich St
Adrien Payne

PF
6'10   240lbs   Senior

With Carlos Boozer potentially being amnestied and Taj Gibson rumored in the mix for a trade for Carmelo Anthony, Payne makes sense at #19.  If he lasts this long, the senior forward is an outstanding pick-and-roll player with range to the 3 point line that can play right away.

20.

Tor


Louisiana-Laf

Efrid Payton

 PG
6'4   185lbs   Junior

One of the fastest risers in the draft, Payton reminds many of a young Rajon Rondo as an elite athlete and defender, with a mediocre offensive game.  If Toronto thinks Kyle Lowry leaves in free agency, Payton or Shabazz Napier would be in play here.

21.

OKC


Michigan

Glen Robinson III

SF
6'7   211lbs   Sophomore

Although Robinson sometimes underachieved in college, his game is tailor maid for the pro game.  He's an athletic freak with developing offensive skill, and would give OKC another weapon in the backcourt.

22.

Mem


 Missouri
Jordan Clarkson

PG/SG
6'4   187lbs   Junior

One of the best athletes in the draft, Clarkson doesn't have a set position but would provide some much needed help offensively in the backcourt alongside Mike Conley Jr.

23.

Utah


Washington

CJ Wilcox

SG
6'5   201lbs  Senior

Wilcox is one of the Draft's fastest risers and projects as an elite perimeter shooter that can help right away.  He provides excellent insurance if Gordon Hayward leaves in free agency.

24.

Cha


Syracuse

Jerami Grant

SF/PF
6'8   215lbs   Sophomore

Charlotte needs athletes and Grant fits the bill.  He's a super athletic forward that defends, rebounds, and out-hustled opponents at Syracuse.  An excellent addition alongside Gilchrist and McDermott  at the 3.

25.

Hou


 Syracuse
Tyler Ennis

PG
6'2   180lbs   Freshman

The former Syracuse product has been sliding a bit and would be an excellent fit with the Rockets, who may move Jeremy Lin and his expensive contract prior to next season.

26.

Mia


UConn

Shabazz Napier

 SG
6'0   175lbs   Senior

With Mario Chalmers assuredly not returning next season, Ennis or Finals MVP Napier would be in play here to help run the point for Lebron and Co. in Miami.

27.

Pho


Tennessee

Jarnell Stokes

PF
6'8   260lbs   Junior

Although a bit undersized, Stokes has a tremendously strong lower body and projects well as an elite rebounder and low post scorer.  Some have gone as far as to compare him to the next Charles Barkley although he wasn't a superstar at Tennessee.

28.

LAC


Wichita St

Cleanthony Early

 SF
6'7   215lbs   Senior

One of the top seniors in the class, Early is an athletic, jack of all trades small forward that will help a team immediately, perfect for the Playoff bound Clippers.

29.

OKC


UNC/D-League

PJ Hairston

 SG
6'5   228lbs   Junior

Attitude and getting released from UNC will come in to play on draft day, but Hairston is ready made for the NBA from day one.  He lit up the D-League scoreboards last season and would provide another excellent compliment to Westbrook and Durant.

30.

SA


 Michigan
Mitch McGary

PF
6'10   266lb   Sophomore

The oft injured McGary has refused to work out with any teams over the past few weeks, raising a red flag that he has a guarantee from a 1st Round team, widely rumored to be the Spurs.
Allen Moll has been a lifelong NBA and NCAA College Basketball fan who watches and studies games religiously, and coaches youth basketball in his native Lehigh Valley region of Pennsylvania. Allen has also provided content to Bleacherreport.com, Upperdeckblog.com, Cleveland.com, CSN Philly.com, Buckets Magazine, in addition to being a tenured NBA and NCAA columnist for TheHoopDoctors.com.