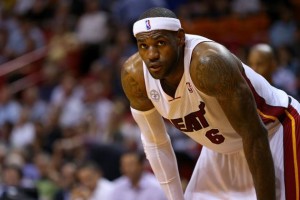 With many questions swirling in Miami regarding the future of the big 3, the first domino has fallen as LeBron James has decided to exercise his early termination option. He will become a free agent on July 1, his agent Rich Paul has informed the Miami Heat. It's worth noting, however, that this has absolutely no bearing on whether or not he'll actually leave the Heat. The can be viewed as LeBron's way of putting pressure on Pat Riley to improve the roster, even though Riley has stated that he thinks the roster is fine.
That leaves Bosh and Wade. With Wade breaking down, he'd be nothing short of a fool to opt out. He's much better off holding the team's salary cap ransom and sit idly while collecting his guaranteed $40 million over the next two season.
Perhaps, all of this means that Chris Bosh will likely be offered considerably less if he does opt out (which is why he may not). But at the end of the day, it doesn't appear as if the big 3 came together to make a collective decision. We shall see.
LeBron James' agent, Rich Paul, has informed the Miami Heat of his client's decision to exercise the early termination option on his contract and become a free agent on July 1.

Paul confirmed the decision via text message to USA TODAY Sports.
H/T: USA Today