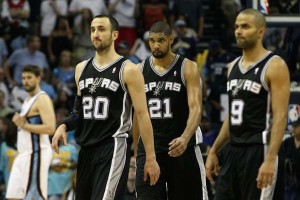 Side with Tony Parker on this one.
Trust me, you're going to hope he's right. But you're also going to have suspicions that he's wrong.
In an interview with basket-infos.com, Parker said that he knows Tim Duncan and Manu Ginobili will return to play next season for the San Antonio Spurs.
Here's exactly what he said, the transcription of which comes via HoopsHype:
When (Duncan and Ginobili) retire, it will be weird. It will create a big hole in the locker room. I hope it will be as late as possible. I know they both have another year of contract. I know they will play next year, and we'll see after that. They are healthy. Popovich takes care of players' bodies and maybe they will want to continue after that. In any case, I hope to play as long as possible with them.
Well, this is exciting. Or maybe disheartening, depending how you look at it.
Ginobili is 36 and Duncan is 37. Imagining them playing beyond their contracts—which expire after next season—is difficult. You also have to wonder if Parker is being a tad ambitious in his assertion that they're going to play next year.
If the Spurs win a title, do we really see both players coming back? Especially Duncan? That would be his fifth championship. He would have a chance to go out on top like David Robinson did. Not many players have the opportunity to leave on their own terms.
This is all assuming they actually win a title, which they might not. The Spurs are the NBA's best team by far at the moment, but there are 15 other teams that will be vying for the same thing this spring. If they don't win, you have to imagine there's a good chance both Ginobili and Duncan will be back in an effort to give it at least one more go.
Selfishly, you—or rather, I—almost want the Spurs to lose again this season, increasing the likelihood that either player, specifically Duncan, would return. For some reason, the NBA doesn't seem ready for life without Duncan or these Spurs. It just doesn't feel right. Even Parker admitted it's going to be "weird" after they retire.
Seeing them win another title, though, would be surreal, validating everything they've done, all the odds they've defied, etc. They would deserve it too. The Big Three, Gregg Popovich—everyone. The Spurs are the definition of a well-oiled machine. Their system is balanced and perfect, and has ensured the Spurs remain contenders nearly two decades into Duncan's career.
But this is all going to come to an end at some point, be it this summer, next summer or sometime thereafter. Players don't last forever, and the Spurs are approaching the end. When exactly it's going to end remains a mystery, but the end is coming.
Soon.
Let's just hope the rest of their ride, however long it lasts, is as exciting and meaningful as it's always been.
Dan Favale is a firm believer in the three-pointer as well as the notion that defense doesn't always win championships. His musings can be found at Bleacherreport.com in addition to TheHoopDoctors.com.