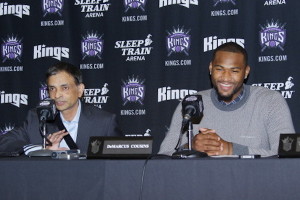 Tanking is not an epidemic in the NBA, but it does exist.
Under the current lottery system, how could it not? Rebuilding teams have an incentive to lose if they want a high draft pick. It's that simple. Some people despise it, others are indifferent to it and a few even embrace it.
I would probably fall in line with the indifferent crowd. I can understand why it's frustrating and annoying from a fan's perspective. There's no one I pity more at the moment than the Philadelphia 76ers fanbase, who went from hopeful contenders in summer 2012 after the acquisition of Andrew Bynum, to bottom-feeding tankers this season.
At the same time, if I'm a general manager enamored by the upcoming draft class and my team's already entering a transition period, I'm going to tank for a better pick. It doesn't always work, but it doesn't have to. It's about the odds, and the odds of landing a top pick are better the worse you are.
If people want that to change, the lottery system has to change. Plenty of ideas are out there, each one just as intriguing as the next.
The latest suggestion comes from Sacramento Kings principal owner Vivek Ranadive, who, per The Sacramento Bee's Jason Jones, believes he has the answer to tanking:
Ranadive calls it the "V-Plan" and believes it would change how teams approach the season and the rebuilding process.

"Part one is that we freeze the draft lottery order at the All-Star break," Ranadive said. The rationale is if the lottery order is set then, teams would not have incentive to dump players at the trade deadline simply for the purpose of tanking.

Ranadive's plan also would feature a way to keep every team engaged to the season's end by keeping them all eligible for the postseason.

"Then part two is at the end of the season the top seven teams in the East and the top seven teams in the West make the playoffs," Ranadive said. "And then for the eighth spot, the remaining eight teams (in each conference) have a college-style sudden-death playoff at a neutral place."
Interesting.
"Part two," as Ranadive calls it, has been suggested in some form before. A tournament for the final playoff spot in either conference is something that speaks to many people. Freezing the draft lottery at the All-Star break, however, is something relatively new.
In theory, it should prevent dumpster-fire trades at the deadline by teams looking to increase their loss total. But it doesn't prevent those types of deals from going down entirely.
The race to tank essentially becomes a half-season affair here. Salary dumps and one-sided, draft-position-fueled trades are just more likely to go down during the offseason or very beginning of the year.
Fringe-playoff teams that lose a player to injury right before or after the All-Star break are absolutely screwed too. Take the Atlanta Hawks this season. Under Ranadive's model, they could very well miss the playoffs and the lottery this season.
Is that a reasonable price to pay? Especially when you consider one-sided trades aren't exactly an epidemic either?
Trade deadlines have been dormant the last few years. Evan Turner and Spencer Hawes were the most blatant tanking-inspired dumps made this season, and the Sixers were already in line for a top draft pick. Those are deals they likely just make sooner. Even if they don't make them at all, it probably doesn't impact their position much. Same can be said for many other teams. Tanking happens in the first part of the season too. This doesn't deter that.
One of the things that would be interesting to watch, though, is post All-Star activity. If a team has, for lack of a better phrase, tanked enough through the first half of the season, they now have an incentive to make a splashy move at the trade deadline by acquiring an impact player. Then they're looking at the opportunity to make a playoff push—via said tournament—while remaining in play for a top lottery pick.
There's also the matter of first-rounders in said trades. Lottery-qualified teams could technically trade their pick in exchange for an immediate impact player, thereby taking their rebuild in a different direction. Protection on picks in any trade would suddenly become weird as well. There are just so many variables at play.
Flaws can be found in every suggestion, but this one seems to need more fine-tuning than others. All it does is really change the timeframe of tanking and the manner in which it's done. It doesn't eradicate it entirely.
Then again, nothing likely ever will.
Dan Favale is a firm believer in the three-pointer as well as the notion that defense doesn't always win championships. His musings can be found at Bleacherreport.com in addition to TheHoopDoctors.com.