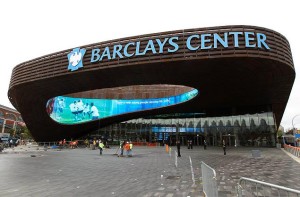 Before the conference shake-up, you could make the argument that the Big East was the best basketball conference. The ACC was the most glamorous, but perhaps not the best top-to-bottom. But that all changed a few years ago, of course.
Now the ACC has the glitz, glamour and boasts being tthe best league in the land, while the Big East contains a team from Nebraska. In fact, all of this means that the ACC tournament should probably move from the Greensboro Coliseum, where it's been forever. The conference is reportedly hold the tournament at the Barclays Center in Brooklyn in 2017 and 2018. The Big East, of course, has had their tournament in Madison Square Garden for years and the events will run in parallel with one another now.
The Atlantic Coast Conference will play its men's basketball tournament at Barclays Center in Brooklyn in 2017 and 2018, a person with knowledge of the deal said Friday.

The move sets up a conference tournament showdown with the Big East tournament, held simultaneously at Madison Square Garden, and brings the former Big East members Syracuse, Pittsburgh, Louisville, Notre Dame, Boston College, Miami and Virginia Tech back to New York in March.
H/T: New York Times