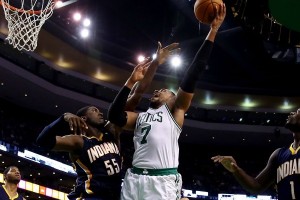 Prepare yourselves for the most unconventional of NBA compliments.
Following the Indiana Pacers' 106-79 romping of the Boston Celtics, Roy Hibbert told CSNNE's Abby Chin that Jared Sullinger could be "the Kevin Love of the East."
Quite the form of praise, wouldn't you say? Sullinger is in his second season with the Celtics and is already garnering comparisons to a two-time All-Star who also happens to be one of the league's best rebounders. And it came from an All-Star big man himself. Kudos, Jared.
Of course, that all depends how Sullinger interprets this. Maybe he doesn't want to be Love. The Minnesota Timberwolves' star is often depicted as someone who isn't athletic (even though he is) and cannot play defense (he can't).
I'm going to roll with flattered. Sullinger should be flattered. Stretch forwards are valued in today's NBA, and Love is a top-15, bordering on top-10, superstar. This is something that should Sullinger him blush. And smile uncontrollably. And force him to bat his eyes at Mr. Hibbert.
The key part of Hibbert's extolling, though, is this is all predicated on Sullinger continuing to work. He's not Love just yet, and Hibbert made that very clear. He must keep working.
Although he's become more of a three-point shooter, he's not the marksman Love is. Sullinger is connecting on just 31 percent of his threes for the season, compared to Love's 38.2. That said, Love converted just 33 percent of his long balls during his sophomore campaign, indicating these things take time.
Sullinger wasn't heralded as a stretch 4 upon entering the league. He was known as an undersized power forward who could't play above the rim. Out of necessity, he's developed his range under rookie head coach Brad Stevens. He's shooting from the outside more frequently, but isn't going to turn into the next Love overnight.
Rebounding is an area he'll also need to buck up on. Love is currently bringing down 13.7 a game, while Sullinger is at 7.3. Minutes come into play obviously, since Love is averaging nearly 10 more per game, but size does, too.
Love is only an inch taller than Sully, but he's lankier. Those arms of his give him reach that Sullinger will never have. Absence of back issues help his cause as well. Sully battled back injuries until this season, so he may never have the lift or reach necessary to become the double-double threat Love has emerged as, either.
Finally, we have passing, the most underrated aspect of Love's game. Sully is averaging a mere 1.8 dimes per game, which isn't surprising. Boston is devoid of a true playmaker until Rajon Rondo returns, and when you're relying on Jordan Crawford to run the offense for stretches at a time, your bigs aren't going to be afforded many assist opportunities.
Before Love became the 4.2-assists-per-game stud he is today, he also toiled in the low twos. For all we know, Sullinger is right on schedule. Hibbert sure seems to think so. And so does Love.
"He can shoot the ball, he has a soft touch, he's capable, as far as rebounding the basketball goes," Love himself said of Sully, per The Boston Globe's Baxter Holmes. "He's very young, so he has a lot of chances to improve."
What I think Kevin Love meant to say is that Jared Sullinger has plenty of chances to become the next Kevin Love.
Dan Favale is a firm believer in the three-pointer as well as the notion that defense doesn't always win championships. His musings can be found at Bleacherreport.com in addition to TheHoopDoctors.com. Follow @danfavale on Twitter for his latest posts and all things NBA.