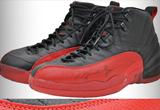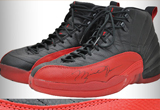 When does your obsession for collecting sports memorabilia go too far. Maybe when you spend more than $100k on sneakers that a famous basketball player previously wore. Even it that famous basketball player was Michael Jordan and we're talking about the 'flu game', that's still a pretty penny. All told, the shoes sold for $104, 765.
Hey, if you have $104k to blow on old kicks, more power to you.
The shoes, brought to the market by Grey Flannel Auctions and consigned by former Utah Jazz ballboy Preston Truman, were worn by Jordan during Game 5 of the 1997 NBA Finals in which Jordan scored 38 points for the Chicago Bulls despite laboring up and down the court from feeling sick that day.

The identity of the winning bidder was not immediately made public, but the amount paid blew away the previous record paid for a pair of game-used shoes, which were also worn by Jordan. A collector paid $31,070 just last month for a pair of that Jordan wore in his rookie season.

Truman was able to secure the shoes, after developing a relationship with Jordan, which started when he says he one day fetched Jordan's traditional pregame applesauce during the 1996-97 season.
H/T: ESPN