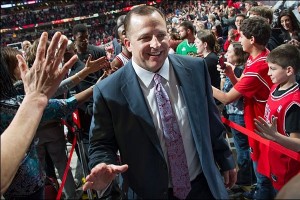 The New York Knicks are notorious for lusting after other people's players (OPP). Now it seems they're also interested in OPC—other people's coaches.
Head coach Mike Woodson has been on the hot seat ever since the Knicks began their current free fall. At 6-15 and sitting at the bottom of the Atlantic Division, he's nowhere near safe. New York hasn't been healthy, and Tyson Chandler and Raymond Felton remain banged up, but if the Knicks continue down their current path, someone is going to pay. And that someone could be Woody.
Never fear, the Knicks already have a replacement in mind, according to ESPN's Marc Stein—Tom Thibodeau.
"Isn't he the coach of the Chicago Bulls?" you might ask, knowing the answer. That he is. But the Knicks don't care and could be positioning themselves for a run at the hard-nosed Thibs:
My sense from the latest coaching scuttle is that Woodson, even if he survives the crisis at hand, is only going to last until Dolan can find a bigger, splashier name to take over. The belief here is that the Knicks' impresario, given his lack of draft and trade assets to make impactful changes to the talent, ultimately wants a superstar coach as much as he wants to re-sign Melo come July. Which is where Thibodeau comes in.

Extricating Thibodeau from his Bulls contract in the coming offseason would by no means be easy. The Bulls, as we know them now, wouldn't be the Bulls without him. And Thibodeau, obviously, would have to want to leave Chicago for New York.

But I, for one, like the Knicks' chances there better than their ability to land any of the other big names on Dolan's presumed wish list. Dismiss the scuttle if you wish, but I'm buying it.
Because, of course.
These are the Knicks. James Dolan's Knicks, to be exact. So I, like Stein, am going to buy the scuttle. It's just like them to long for something they can't have; it's just like them to pursue a vacancy they haven't even created yet.
Last time I checked, Woodson was still the coach of this team. Still the guy who had the reins. Speculation about his job security is one thing, but to know the Knicks already have a replacement in mind must suck. Especially this replacement.
Thibs has two years left on his deal with the Bulls, so nothing, if anything, is going to happen after this season. If this report is accurate, that makes Woodson a sitting duck at best. Either he's canned before the year is out, or he makes it, until the offseason, at which point the Knicks will fire him anyway before attempting to steal Thibs from Chicago.
Looking past the fact that Thibs is already under contract and poaching him from the Bulls would be beyond difficult, New York's interest isn't groundbreaking. Thibs was an assistant on Jeff Van Gundy's staff back in the day, and his Bulls have a track record for playing hard. Case in point: They won 45 games last season without Derrick Rose. Pretty impressive.
Stein also writes that Carmelo Anthony, the Knicks' free-agent-to-be wouldn't be put off by Thibs' presence either:
Don't forget he's another CAA star client who already has some Knicks history after his stint as an assistant on Jeff Van Gundy's staff. No one I've consulted, furthermore, thinks that trying to bring in the famously demanding Thibodeau would dissuade Melo from re-signing with the Knicks, who, remember, can still pay their star forward $30 million more than anyone else to stay in a city he adores.
The coup de grace? Thibs is a CAA client as well, and as we all know, CAA runs the Knicks at this point, which makes this report seem more accurate by the second.
To his credit, Thibs wouldn't comment on the situation before his Rose-less, Luol Deng-less and Jimmy Butler-less Bulls faced the Knicks.
"No comment on any of that stuff," he said, according to Newsday's Barbara Barker. "Mike's a helluva coach. I have a great job and I love my team."
Way to take the diplomatic route, Thibs. Just don't expect that to be the end of this. Once you get tangled in New York's web of ridiculous, there's no escaping it.
Which means it's going to be a long, long rest of the season for everyone involved.
Dan Favale is a firm believer in the three-pointer as well as the notion that defense doesn't always win championships. His musings can be found at Bleacherreport.com in addition to TheHoopDoctors.com. Follow @danfavale on Twitter for his latest posts and all things NBA.