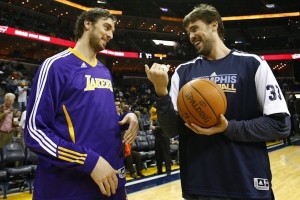 Bomb. Dropped.
Pau Gasol, who will become an unrestricted free agent after this season, is in an awkward situation with the Los Angeles Lakers. He has been for quite some time.
The Lakers have already tried trading him once, in a deal that would have landed them Chris Paul in 2011. There's also the chance they would have amnestied him had Dwight Howard not left for the Houston Rockets over the summer. Now, while he's still on the team, he's unsure if he's a part of their plans beyond this season.
Armed with cap space, the Lakers figure to chase a superstar over the offseason, someone who is in their prime and can help make the most of Kobe Bryant's final two years. Problem is, to have the necessary spending power, the Lakers must renounce their rights to Gasol.
Some tend to believe his days as a Laker are over. Though it means the Lakers will risk losing him for nothing, they cannot afford to pass on the opportunity to sign Carmelo Anthony or LeBron James, both of whom could become free agents this summer ass well. That said, he doesn't exactly have one foot out the door. He could be willing to accept a pay cut or, if the Lakers feel they cannot land a superstar, it could be them who willingly brings him back.
Rarely have we considered the other possible outcome: Gasol leaving the Lakers.
All this talk makes it seem as if Gasol is Los Angeles' patsy. He'll be around if they want him. End of story. If they don't want him, then he'll be forced to find work elsewhere.
But according to NBA.com's Scott Howard-Cooper, Gasol will have options of his own this summer, and he could leave the Lakers before they desert him:
"There's different factors you have to take into account," Gasol said. "The financial factor. That I've been with this franchise, for what I've been through, the loyalty I have to them. And also the chances of winning a championship. Those three are the most. What percentage I will give or prioritize, we'll see when the opportunities come along. But I would like to first be in a position to win a championship again and enjoy the last few years of my career and be in a good position to do so."

If the projections come true and the Lakers are clearly not a contender, would that increase the chances of leaving?

"If there's possibilities of being in a place that has those type of chances, it's something I will think about," he said. "But, again, I'm not in that position yet. I'm here. We're just kind of guessing here. We'll see. We'll cross the bridge when I get there. No rush."
Basically, Gasol hasn't ruled out a return to the Lakers. Another thing he hasn't ruled out? A return to the Memphis Grizzlies:
"It's appealing," Pau Gasol told NBA.com. "One of the best centers in the NBA, one of the best interior players, is my brother. There's a lot of attractive factors there. But who knows if that's even a possibility or if that will ever happen. Right now, I'm just trying to focus on (the Lakers' opponents) and staying healthy and playing a very successful year so this team and others will have the certainty and the confidence that I am a difference maker, that I am an elite player and I have a lot of years in me."
Gasol spent the first six seasons of his career in Memphis, before being traded to Los Angeles in the middle of his seventh. And his brother, Marc Gasol (currently injured), plays for the Grizzlies now. Playing alongside him, and for the Grizzlies again, is certainly interesting and something I imagine he'll seriously consider if it gets that far.
Will it get that far? Tough to say.
Per Hoopsworld, the Grizzlies have over $43.5 million in guaranteed contracts on the books for next season. If Zach Randolph exercises his player option worth close to $17 million, suddenly the Grizzlies are looking at a payroll exceeding $60 million again. Not only could they not afford Gasol, they wouldn't need him.
Z-Bo could opt for free agency, of course. Or the Grizzlies, recognizing they may not make the playoffs this year, could dump him for contracts that will definitely come off the ledger this summer. Either scenario would leave them with enough green to ink Gasol, who is due for a pay cut from the $19-plus million he's making now.
At that point, though, the Grizzlies have to ask: Is Gasol worth it?
By the time he signs his next deal, Gasol will be 34. And his brother will be a free agent in 2015. What kind of pact do you sign him to, then? A one-year deal? Two-year contract?
You're not going to build a contender around him. He's best suited as a complementary piece this late into his career. Memphis also has to consider he's a shell of his former self. He's shooting a career-low 41.7 percent from the floor this season and has flirted with injuries much too often since last year. Would he 1) be worth the money he'll command and 2) even make a difference?
Rejoining the Grizzlies remains a long shot. The more likely scenario entails him accepting a significant pay cut to stay with the Lakers. With Steve Nash's contract expiring in 2015, the Lakers could look to move him in a salary dump, thus opening up even more cap room, giving themselves the ability to re-sign Gasol and chase a star-esque player this offseason. It could happen.
So could a reunion between Gasol and the Grizzlies. That could happen, too.
Just don't count on it.
Dan Favale is a firm believer in the three-pointer as well as the notion that defense doesn't always win championships. His musings can be found at Bleacherreport.com in addition to TheHoopDoctors.com. Follow @danfavale on Twitter for his latest posts and all things NBA.