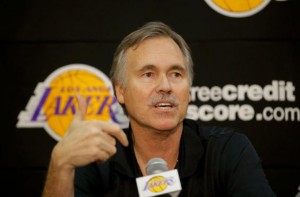 Mike D'Antoni hasn't sugarcoated anything since joining the Los Angeles Lakers.
When he was coaching the Phoenix Suns and New York Knicks, you could never really get inside his head. Not like you can now. In Phoenix, there was an air of bravado in the way he spoke and confidence in his step. With the Knicks, he was constantly walking on egg shells and doing damage control, especially in the season leading up to his resignation.
As coach of the Lakers, it's been different. At times, Magic Mike has had a sardonic, oft-twisted sense of humor. Wins and losses have been put in perspective, sure, but you get the sense that he doesn't give two flying feces about deflection and damage control. He's going to say what he's going say, never throwing any one person under the bus, but never ignoring the issue at hand either.
Maybe it's the decade-plus worth of head-coaching experience rearing its head. Or perhaps D'Antoni is just enjoying the increased verbal liberties that come with not coaching a team like the Knicks, who are owned by a micromanaging buffoon in James Dolan.
Or maybe it's just D'Antoni recognizing he's operating on borrowed time. He wasn't supposed to land this job. Phil Jackson was in the mix, and no one beats out the Zen Master.
But D'Antoni did. More importantly, he left New York for Los Angeles. Who does that? They're the two most-premier markets in the NBA. Once you coach one, there's almost nowhere to go but down. The only way you can make a lateral move is by trading one for the other.
Hell, you can even argue that Los Angeles' gig is a step up from New York's. No Dolan, more championship banners hanging from the rafters—when Doc Rivers doesn't have them covered, of course—and increased amounts of sunshine.
Speaking of weather, D'Antoni "celebrated" his one-year anniversary with the Lakers on Tuesday. It was this time last year that he was hired to replace Mike Brown. Not Jackson—him.
Naturally, Magic Mike rang in the milestone the only he could—by complimenting the weather, according to ESPN Los Angeles' Dave McMenamin:
"The weather is really good," D'Antoni joked before the Lakers played the New Orleans Pelicans when asked to reflect on his first year in L.A. "It's really nice. That's about it. A lot of ups and downs."
There are those jokes I was talking about, coalesced with some cold, hard truth.
This last year has been nothing short of a whirlwind for D'Antoni and the Lakers. Since he took over, the Lakers have gone 43-37, barely made the playoffs despite fielding four future Hall of Famers, watched Kobe Bryant suffer a career-threatening injury, witnessed the (still-developing) demise of Steve Nash and seen their plans for Dwight Howard torched.
Tasked with managing it all was D'Antoni. It's still D'Antoni. Chemistry issues followed Howard to the Houston Rockets, but the Lakers are still shrouded in mystery. No one quite knows when Kobe will be back or if Nash will ever be a semblance of Nash again. There are nights where the star-less Lakers look like a dark-horse playoff team and games where they wouldn't pass for a D-League affiliate.
Against the New Orleans Pelicans, on D'Antoni's anniversary, the Lakers played like the former, winning by 21 points. Looking ahead, there's no telling who the Lakers are or where they'll be one month from now. Or even on week from now. Or where D'Antoni will be by season's end. Things change that quickly in this league, specifically in a market like Los Angeles.
But D'Antoni has survived his first year in Hollywood. And it was a helluva year. Ups, downs, sunshine, rain—it had a little bit of everything.
"This has been a little bit up and down," said D'Antoni of coaching the Lakers. "This is a little different."
Here's hoping that "different" comes to mean better soon enough.
Dan Favale is a firm believer in the three-pointer as well as the notion that defense doesn't always win championships. His musings can be found at Bleacherreport.com in addition to TheHoopDoctors.com. Follow @danfavale on Twitter for his latest posts and all things NBA.