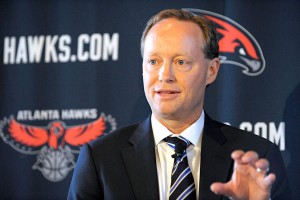 The only thing worse than having players get in trouble with the law during the off season is to have that happen to the coach.
Brand new Hawks head coach Mike Budenholzer was arrested and charged with DUI. We don't expect him to be fired but he's surely not high on the list of favorite people of the team's owner.
A trooper stopped Budenholzer for having no tail lights, according to the State Patrol. The trooper detected an odor of alcohol, administered a field sobriety test, then placed Budenholzer under arrest.

Budenholzer refused a breath test, a State Patrol spokesman said.

A spokesman for the Atlanta City Jail told The Atlanta Journal-Constitution that Budenholzer, 44, was charged with DUI and a tail light violation, and was released on $1,524 bond at 3:45 a.m. Thursday.
H/T AJC.com