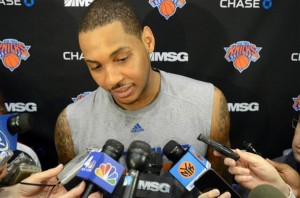 Over the weekend, LeBron James of the Miami Heat was named NBA MVP for the 4th time in his career. It's scary because if you take a look at his career stats, LeBron seems to be getting better, as tough as that is to believe.
Yesterday, we learned that of a possible 121 first-place votes, LeBron received 120. That means one lone writer did not vote for LeBron, and everyone was speculating as to who that may be. That writer is Gary Washburn of the Boston Globe. Today, Washburn raised his hand, acknowledged that it was him, and that he voted for Carmelo Anthony because he feels Anthony is more valuable to his team than LeBron to his. As Washburn explains:
Anthony led the league in scoring average and basically carried an old Knicks team to the No. 2 seed in the Eastern Conference. Amar'e Stoudemire missed most of the season with knee issues, Raymond Felton missed six weeks, and Tyson Chandler dealt with nagging injuries, leaving Anthony, J.R. Smith, and a bunch of lottery picks from the mid-1990s to win 54 games and beat the Miami Heat three times.

Firstly, when I submitted my vote in mid-April, I had no idea I would be the only voter to leave LeBron out of first. This isn't Mrs. Wilson's class, I don't walk around asking fellow sportswriters their answers to the US History quiz. I had no idea whom the writers were voting for, so this was no LeBron conspiracy.

Secondly, this isn't the Best Player in the Game award, it's the Most Valuable Player award, and I think what Anthony accomplished this season was worthy of my vote. He led the Knicks to their first division title in 19 years.
Washburn is right in that the award is often-times regarded as the Best Player in the Game award. If that's the case, LeBron will win that every year, as Washburn also mentions.
Frankly, I am surprised that LeBron got 120 of the 121 first-place votes. None for Kevin Durant, Chris Paul or Tony Parker? I mean, you'd figure LeBron would win, but I didn't think by this margin. I thought a few others would've received votes too.
But here's quite possibly Washburn's biggest point:
So my vote had more to do with Anthony and less to do with the dominance of LeBron. If you were to take Anthony off the Knicks, they are a lottery team. James plays with two other All-Stars, the league's all-time 3-point leader, a defensive stalwart, and a fearless point guard. The Heat are loaded.

If LeBron was taken away from the Heat, they still would be a fifth or sixth seed. He is the best player of this generation, a multifaceted superstar with the physical prowess of Adonis, but I chose to reward a player who has lifted his team to new heights.
So, does Washburn have a point in all of this? At the very least, he makes it clear that it was a case of someone who was trying to prove a point, as so many suspected. (However, he is overstating Mario Chalmers a bit in the quote directly above).
Kevin Burke of The Kevin Burke Project brings provocative, thought provoking content about basketball as only he can. Kevin also hosts The Hoop Doctors weekly podcast show, which you can subscribe to for free on iTunes. Follow Kevin on Twitter and Facebook