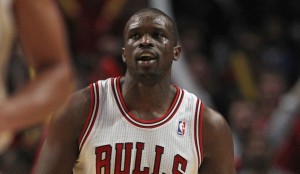 The Chicago Bulls' attempt to upset the Miami Heat was never going to be easy, but an excessive number of absences may make it impossible.
Derrick Rose remains on the sidelines and Joakim Noah is essentially playing on one foot. We also know that Taj Gibson and Kirk Hinrich are banged up as well. And as if that wasn't enough, Deng, the Bulls' regular season leader, didn't travel with the team to South Beach to face the Heat in Game 1 of the NBA's Eastern Conference Semifinals.
According to a person with direct knowledge of the situation, Luol Deng didn't travel to Miami and isn't with the Bulls as of Sunday night.

— Aggrey Sam (@CSNBullsInsider) May 6, 2013
He went back to the emergency room in Chicago this morning.

— Aggrey Sam (@CSNBullsInsider) May 6, 2013
If by now you're thinking that the Bulls can't catch a break, you're not alone. They were without both Deng and Hinrich in addition to Rose for their series-clinching victory over the Brooklyn Nets, and now there's no telling how shorthanded they'll be in their opening game against the Heat, or the series in general.
Deng is still listed as questionable for Monday night's contest, but let's be honest: Even if he somehow shows up, the fact that he needed to return to the emergency room isn't a good omen. Nothing about the state of Chicago is.
The Bulls went 2-2 against the Heat during the regular season, and are expected to put LeBron James and crew through hell and back in their best-of-seven series. And they probably will. But an upset seems less likely by the injury report.
Chicago plays the type of defense that can disrupt Miami's offense on a consistent basis, but its rotation hasn't been consistent since the playoffs began. You know Noah will play whether he's missing limbs or not, and the same can be said of Deng. If they can play, they're going to play. But how effective are they going to be?
With the amount of minutes Noah is logging, his plantar fasciitis could prevent him from moving at any moment. He was limited in the number of minutes he could log early on against the Nets, but finished strong in the latter half of the series. What if his injury finally catches up with him?
That's why Deng's current issue is so concerning. He's recovering from illness, which should bode well for his eventual return. In the scheme of things, however, that means nothing. If he misses even just one game, that could derail Chicago's already slim upset hopes. Every game matters in the postseason. Every victory counts. Especially against the Heat.
Wins were going to be hard to come by for the Bulls to begin with. Now they're going to be even harder. Will they get them? I say yes. They're physical enough, even at half strength, to steal a game or two. An upset, though? That doesn't just seem unlikely; it appears impossible.
Completely healthy, the Bulls present one of the biggest threats the Heat could see in the Western Conference. Right now, though, they may prove to be just another stepping stone Miami uses to advance its hopes of a repeat.
Dan Favale is a firm believer in the three-pointer as well as the notion that defense doesn't always win championships. His musings can be found at Bleacherreport.com in addition to TheHoopDoctors.com. Follow @danfavale on Twitter for his latest posts and all things NBA.