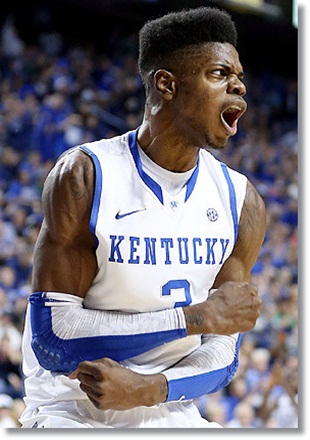 With the NBA regular season officially over and another exciting postseason for playoff teams just underway, what do the disappointing non-playoff teams have to look forward to in the coming months?
Well, of course it is the 2013 NBA Draft which is just over 2 months away, where teams like the Charlotte Bobcats, Sacramento Kings, and Cleveland Cavaliers will once again be in the running for the top overall pick.
Most agree that the prize in the upcoming Draft could be Kentucky freshman big man Nerlens Noel, who despite a season ending knee injury, averaged a nation best 4.4 blocks per game, and remains the player with the most potential in an underwhelming 2013 Draft Class. Noel was named the odds-on favorite for the #1 pick in THD's most recent NBA Mock Draft 2.0.
Other potential prospects for the Top 5 picks include Kansas freshman guard Ben McLemore, UCLA freshman forward Shabazz Muhammed, Georgetown sophomore forward Otto Porter Jr, and Michigan freshman PG Trey Burke, who recently was named the 2013 Wooden Award winner, as the nation's best player.
Last season, the New Orleans Hornets won the Draft Lottery and selected Anthony Davis, the 2012 NCAA Wooden Award winner, with the top overall selection, but finished with one of the league's wort records this season.
The NBA Draft lottery is set for May 21st, with the 2013 NBA Draft on June 27th.
Here's the official Draft order for all teams leading up to the Draft Lottery, with non-playoff teams' chances of landing the #1 selection….
2013 NBA Draft Order:
1. Orlando 25 percent
2. Charlotte 19.9 percent
3. Cleveland 15.6 percent
4. Phoenix 11.9 percent
5. New Orleans 8.8 percent
6. Sacramento 6.3 percent
7. Detroit 3.6 percent.
8. Washington 2.5 percent
9 Minnesota 1.7 percent
10. Portland 1.1 percent
11. Philadelphia 0.8 percent
12. Toronto 0.7 percent
13 Dallas 0.6 percent
14 Utah 0.5 percent
15. Milwaukee
16. Boston
17. Atlanta
18. Atlanta (via Brooklyn and Houston)
19. Cleveland (via LA Lakers)
20. Chicago
21. Utah (via Brooklyn and Golden State)
22. Brooklyn
23. Indiana
24. New York
25. LA Clippers
26. Minnesota (via Houston and Memphis)
27. Denver
28. San Antonio
29. Oklahoma City
30. Phoenix (via LA Lakers and Cleveland and Miami)
Tiebreakers:
• Detroit (29-53) won a tiebreaker with Washington.
• Philadelphia (34-48) won a tiebreaker with Toronto.
• Houston (45-37) won a tiebreaker with Chicago and the L.A. Lakers; L.A. Lakers then won a tiebreaker with Chicago.
• L.A. Clippers (56-26) won a tiebreaker with Memphis.
Allen Moll has been a lifelong NBA and NCAA College Basketball fan who watches and studies games religiously, and coaches youth basketball in his native Lehigh Valley region of Pennsylvania. Allen has also provided content to Bleacherreport.com, Upperdeckblog.com, Cleveland.com, CSN Philly.com, Buckets Magazine, in addition to being a tenured NBA and NCAA columnist for TheHoopDoctors.com.