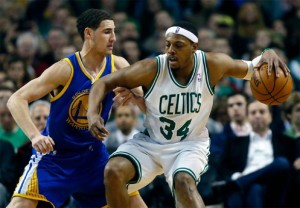 The Golden State Warriors reportedly turned down a trade for Boston Celtics veteran forward Paul Pierce.
According to Bill Simmons of ESPN's Grantland, the Celtics offered Pierce to the Warriors in exchange for rookie Harrison Barnes and the 2014 expiring contract of Andris Biedrins or Richard Jefferson:
Warrants mentioning: The Warriors turned down Pierce from Boston in February for Harrison Barnes and a 2014 expiring contract (either Andris Biedrins or Richard Jefferson). I would have done it because they would have been selling super-high on the disappears-way-too-much Barnes (notice he didn't even make "honorable mention") and Pierce would have made them a short-term contender. Could you go to small-ball war against OKC with Curry, Jack, Pierce, Thompson and David Lee? Actually, I think you could. I'd rather have Pierce's final four years then Barnes's next 10, anyway.
I can honestly say that if I'm the Warriors, I would have seriously considered this, and maybe even done it.
Pierce is 34, but he's putting up 18.6 points, 6.3 rebounds and 4.8 assists on the season. He's someone who isn't afraid to take the big shots and his dribble penetration coupled with his unique passing abilities would have created even more open looks for Stephen Curry from three, as if that were even possible.
Golden State's salary wouldn't have drastically changed as a result either. A trade of Jefferson and Barnes would have accounted for between $12 and $13 million total, while Pierce's salary is at $16.8 millions. In the scheme of the luxury tax, that extra $3 or $4 million would have meant something, but still, it's Paul freaking Pierce. He's a future Hall of Famer. An All-Star. An NBA champion.
This deal would have made the Warriors instant contenders. Though we'd like to fancy them dark horse contenders now, a small-ball lineup comprised of Curry, Pierce, Klay Thompson, Jarrett Jack and David Lee would have formed one of the most potent offensive combines in the league. Golden State also could have replaced Jack with Andrew Bogut and that lineup would have become significantly better defensively.
Trading young in favor of old isn't normally the responsible decision, but 1) I'm not fully sold on Barnes and 2) assuming the Warriors could have kept Pierce for two more years after next season, they'd be a legitimate Western Conference powerhouse right through the expiration of Curry and Lee's contracts.
But what if it didn't work out? Well, not only is just $4 million of Pierce's salary guaranteed next season, but his contract comes off the books in the summer of 2014, when the Warriors currently only have $25 million slated in payroll, most of which is committed to Lee and Curry. That number is likely to climb as I can't envision the Warriors not re-signing one of Jack or Carl Landry (or both) after this season, but they would still have plenty of cap flexibility. They could re-sign both Pierce and Bogut, both of which who would come at a discount, or they could chase some flashier names.
The more I think about it, how do you not do this trade? Are the Warriors actually that high on Barnes as an athletic wing? Or was this purely about dollars and cents?
If I had to pick, I'd go with the latter. Or maybe I'm just hoping it's the latter, because that would at least make some kind of sense. Dealing either Jefferson or Biedrins and Barnes for Pierce is really like just dealing Barnes for Pierce. Even with the age difference, how is that not worth it?
Just to toss another scenario into the fold, perhaps the Warriors just didn't want to see Kevin Garnett retire. Moving Pierce would have been the ultimate "sell" on Boston's behalf. I couldn't envision Garnett not retiring after this season if Pierce was sent packing.
Of course, that's if Garnett was even still a member of the Celtics. It's also possible that Pierce's departure would have prompted him to OK a trade to the Los Angeles Clippers for DeAndre Jordan and Eric Bledsoe. If Golden State knew that, this could have been their attempt to try and prevent Garnett from returning to the Western Conference.
Alas, we'll never know. And if you're a Warriors fan, you might not want to. You're not going to want to play the "what if?" game either. Because "what" the Warriors would have had "if" they had traded for Pierce is even better than what they actually have now.
Dan Favale is a firm believer in the three-pointer as well as the notion that defense doesn't always win championships. His musings can be found at Bleacherreport.com in addition to TheHoopDoctors.com. Follow @danfavale on Twitter for his latest posts and all things NBA.