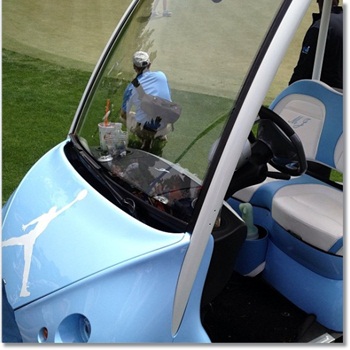 We all know that the G.O.A.T– Michael Jordan has accumulated an inordinate amount of wealth over his playing career, plus endorsements, and of course the Jordan Brand.
And why not. He's universally regarded as the best player we've ever seen run up and down the hardwood as well as revolutionizing the game and the athletic shoe market, making the "Air Jordan" the most successful basketball shoes on the market today.
And even though he hasn't exactly been as good of an NBA executive as he was as a player, MJ remains a legendary figure, and one that likes to enjoy all of the luxuries that his life can afford.
One such example is recently he put one of his homes, a 15 bathroom mansion and estate in a posh Chicago suburb on the market for a cool $29 million.
Another example is his private plane, decked out in North Carolina blue and white, and his #23 jersey number and #6 for his number of rings incorporated into the numbers on the side of the plane.
It appears as if his personalized golf cart is no different as the tricked out cart is also donning the Tarheels' colors, leather seats, a tinted sunroof, as well as chrome rims, and let's not forget the "Jumpman" logo on the hood.
Check out MJ's tricked out golf cart:
Allen Moll has been a lifelong NBA and NCAA College Basketball fan who watches and studies games religiously, and coaches youth basketball in his native Lehigh Valley region of Pennsylvania. Allen has also provided content to Bleacherreport.com, Upperdeckblog.com, Cleveland.com, CSN Philly.com, Buckets Magazine, in addition to being a tenured NBA and NCAA columnist for TheHoopDoctors.com.