July 19, 2012 – Allen Moll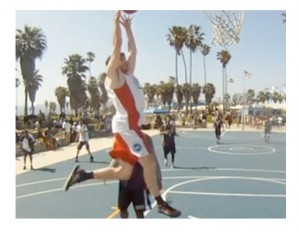 When thinking of some of the hardwood's best highlight reel dunkers, those of the caucasian persuasion rarely, if ever enter the mind of the average fan's psyche.  But in fact, their have been quite a few elite level white dunkers that have fared well even on the highest level of dunk contests in recent times.
Longtime NBA veteran Rex Chapman always put in a valiant effort  while 2 time NBA Champion Brent "Bones" Barry even pulled off the unthinkable, by winning the 1996 NBA Slam Dunk crown.  Nearly one year ago, then Duke University recruit Marshall Plumlee won the City of Palms Dunk Contest by replicating the now famous Steve Nash/Amare Stoudemire soccer kick dunk done in an NBA Dunk Contest.  Just this past year, former Rocket and current member of the Minnesota Timberwolves, Chase Budinger jumped over hip hop mogul P.Diddy in the 2012 Slam Dunk Contest.
For those of you that don't know, former Cal State Fullerton player Tim Trew McGrath, who just happens to be white, has been showing out in Southern California in the Venice Beach Basketball League for some time now, showing off his amazing dunking exploits to the crowds in attendance.
McGrath, who is also known as "Prime", is a regular in LA's famous Drew Summer League, where NBA players put in work against some of the West Coast's best ballers.  Just last Summer, Trew took flight and posterized NBA vet Eugene "Pooh" Jeter during a Drew League contest.  He even once completed a half court alley-oop in another Drew League game back in 2010.
The 6'5 Trew is quite the character, as his Twitter bio(@Tim Tr3w) reads "Professional Af-lete but Don't let the skin fool you…I jump high, dougie well & my credit score is terrible…"  He also lists his address as 8343 IDontGiveaShit Ave………Funny guy.
Check out Tim Trew's "Great White Dunker" Summer Mixtape:
Allen Moll has been a lifelong NBA and NCAA College Basketball fan who watches and studies games religiously, and coaches youth basketball in his native Lehigh Valley region of Pennsylvania.  Allen has also provided content to Bleacherreport.com, Upperdeckblog.com, Cleveland.com, CSN Philly.com, Buckets Magazine, in addition to being a tenured NBA and NCAA columnist for TheHoopDoctors.com.