April 6, 2012 – The Hoop Doctors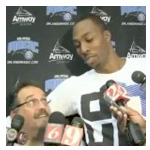 Our guess is that things in the Orlando Magic locker room have been pretty awkward since the rumors started swirling a couple days ago that Magic Center Dwight Howard had asked management to fire head coach Stan Van Gundy. But that was nothing compared to the awkwardness the media witnessed yesterday before the Magic-Knicks game. Van Gundy tells the media that management told him directly that Howard wanted him dismissed. Seconds after telling reporters about his knowledge of Howard's underhanded move, Dwight himself walks up and puts his arm around his coach (2:30 of video) to join the conversation about the game plan for the Knicks match.
In case you didn't catch the Magic-Knicks game, Howard only had 8 pts, 8 rebs, to go with 5 turnovers as the Magic were trounced 96-80 by the Knicks.