March 14, 2012 – Allen Moll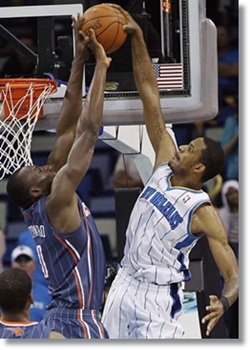 Many have been quick to criticize Michael Jordan as a General Manager and owner of an NBA franchise. To be honest, I don't blame them, especially considering the fact he was the one responsible for the Wizards drafting Kwame Brown straight out of HS with the #1 overall pick in the 2001 NBA Draft.
Flash forward to 2010, and almost immediately after becoming majority owner of the Charlotte Bobcats, Jordan again came under fire for trading away his only talented players Gerald Wallace and Stephen Jackson.
Even though the Bobcats are struggling through a historically bad 6-34 season in 2012, it appears that his top Draft picks from the 2011 Draft are beginning to pay dividends as former UConn star Kemba Walker already is one of the top rookies in the Association and Bismack Biyombo is rapidly developing as a player capable of dominating a game from the defensive side of the ball.
Biyombo in particular, has been coming on strong as of late after being inserted into the starting line-up in mid February. Although he's only averaging 4 points and 5 rebounds on the season, he has notched 7 double digit rebound games since February 4th and has registered 4 or more blocks four times in the same span.
He even blocked 5 shots in 12 minutes against the Pistons, and put back 7 shots in a game against the Raptors, earlier in the season.
In case you missed it on Monday night, the New Orleans Hornets were threatening to derail a potential Bobcats win as forward Trevor Ariza drove the baseline for what would appear to be a thunderous game winning dunk to send the game into overtime.  But that was before Ariza ran into Mt Biyombo…….
Allen Moll has been a lifelong NBA and NCAA College Basketball fan who watches and studies games religiously, and coaches youth basketball in his native Lehigh Valley region of Pennsylvania.  Allen has also provided content to Bleacherreport.com, Upperdeckblog.com, Cleveland.com, CSN Philly.com, Buckets Magazine, in addition to being a tenured NBA and NCAA columnist for TheHoopDoctors.com.