November 7, 2011 – Allen Moll


When the average fan thinks of the greatest offensive players in NBA history, surely everyone thinks of Wilt Chamberlain, Michael Jordan, and Kareem Abdul-Jabbar. Maybe to some others Larry Bird, Magic Johnson, Kobe Bryant, Karl Malone, Jerry West, and Elgin Baylor come to mind? Most if not all of the aforementioned players deserve consideration but what about those players who were equally as potent at putting the ball in the basket but played in a small city, or had their career cut short due to injuries, or violated the league's drug policy?
Surely everyone has a favorite player from their hometown team that they think belongs on this list. From Philadelphia's Andrew Toney, known as the "Boston Strangler", to New York's Bernard King, who persevered through some debilitating knee injuries, and even "Sweet" Lou Hudson, who won 3 straight scoring titles during the 1950's and starred on the '56 Philadelphia Warriors World Title team.
This is a comprehensive list with statistical numbers compiled from a number of different sources to form a subjective opinion to rank the Top 10 players. However, these are just one writer's opinions and not that of the entire staff at TheHoopDoctors.com.
Check out the Top 10 Underrated scorers in NBA History:
1) Bob McAdoo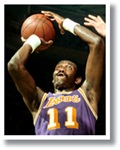 1972-1986 NBA, 1986-1993 Europe
Braves, Knicks, Celtics, Pistons, Nets, Lakers, 76ers
5 Time All Star, 3 Time Scoring Champion
22.1 PPG Career
While it's hard to consider a member of the Naismith Hall of Fame as underrated, that's precisely the case of McAdoo who had one of the best 6-7 year runs of any player in league history before injuries turned him into a 6th man. Most probably remember him as a key contributor off the bench on the '82 and '85 LA Lakers' Championship squads but early in his career, McAdoo arguably was the original hybrid forward during the 70's. He opened the door for future sweet shooting big men like Chris Webber, Kevin Garnett, and even Dirk Nowitzki by showcasing the ability to beat defenses with the midrange jump shot in addition to outstanding low post moves. From '73-'76 he was virtually unstoppable, winning 3 consecutive scoring titles, posting averages of 30.6, 34.5, and 31.1ppg. His outstanding '74-'75 season(34.5 ppg, 14.1 reb, 2.1 blk, .512 FG%, .805 FT%), which included scoring 50 points in a Playoff game, remains as one of the best individual seasons of all time, earning him league MVP honors. After NBA retirement he went on to dominate in Europe, being named one of the Top 50 Euroleague performers of all time for his high scoring outbursts. Later in life McAdoo has spent many years as an assistant coach for the Miami Heat. Many will soon become well acquainted with his highly touted nephew James McAdoo, who is an incoming freshman at UNC this season.
2) Bob Pettit
Milwaukee/St. Louis Hawks
11 Time All Star, 2 Time Scoring Champion
26.4 PPG Career
Prior to Kareem Abdul-Jabbar and Michael Jordan, Pettit was one of the NBA's first offensive juggernauts, setting many league marks including a then record 29.2 ppg for a season, scoring 50 points in a Playoff game, winning the league's initial MVP Award in 1956, and becoming the first player to score 20,000 points for a career. After a stellar career at LSU which saw him become one of the few players in NCAA history to score 60 points in a game, Bob had one of the best rookie seasons in NBA history with averages of 20.4 ppg and 13.8 rebounds in 1955, earning NBA ROY honors. In just his second season, he won his first of 2 MVP awards by leading the Association in both scoring and rebounding. Pettit was the first player to win All Star Game MVP four times, a mark since equalled by Kobe Bryant. While Pettit may be most remembered for his unbelievable rebounding numbers, ranking 3rd all time in rebounds per game behind only Chamberlain and Russell, he along with Michael Jordan are the only players in history to average 20+ppg in every season of their career(min 10 seasons) and ranks among the All Star Game's all time leading scorers, with a 20.4 ppg average.
3) Bernard King
Nets, Jazz, Warriors, Knicks, Bullets
4 Time All Star, 1 Time Scoring Champion
22.5 PPG Career
Few players in NBA history could score the rock like Bernard King. After averaging 25+ppg all 3 seasons at the University of Tennessee, King set the NJ Nets rookie record for scoring with an impressive 24.2 ppg mark. After suffering through substance abuse problems during the latter part of the 70's, King returned with a vengeance in '80-'81, averaging 21.9 ppg for the GS Warriors and earning the league's first ever Comeback Player of the Year Award. In a return to his roots, King was shipped to his hometown Knicks, which served as a beginning of his assault on the scoring record books. He was unstoppable during the '83-'85 campaign and earned the nickname "The Texas Massacre" for his back-to-back 50 point games against SA and Dallas before notching one of the greatest Playoff performances ever against Isaiah Thomas and the Pistons, scoring 44 pts in one game and averaging an insane 40+ for the series. He won his lone scoring title the following season(32.9) which included a 60 point game on Christmas and 55 points against his former team(Nets) before unfortunately sustaining a horrific knee injury late in the season, robbing him of his once unstoppable ability to go to the basket. He made several valiant attempts at a comeback, even finishing 3rd in the league(28.4) in scoring in '91 before succumbing to more injuries forcing him into retirement with the Nets following the '93 season. Many fans in New York wondered just how potent the Knicks could have been had King remained healthy upon the arrival of Patrick Ewing in 1985? Many feel that King belongs in the Hall of Fame but remains 350 points shy of 20,000 for his career and as of yet hasn't been selected for induction.
4) Tiny Archibald
Royals, Kings, Nets, Celtics, Bucks
6 Time All Star, 1 Time Scoring Champion
18.8 PPG Career
Standing barely 6 feet tall and weighing 150 lbs soaking wet while playing in a league filled with giants didn't bother Nate "Tiny" Archibald one bit as he remains as the only player in league history to lead the NBA in both scoring(34 ppg) and assists(11.4) in the same season during that magical '72-'73 campaign. His 34 ppg average set the record at the time for scoring average by a guard. Archibald would go on to average 20+ppg in 5 of his first 7 seasons before tearing his Achillies tendon and was sent to Boston prior to the '78-'79 season. Despite never again averaging 20 ppg, Tiny teamed with a young Larry Bird to win his lone NBA Title in 1981. Archibald was an All NBA Team selection 3 times, was named the '81 All Star Game MVP, led the NBA in free throws made 3 times, and ranks in the Top 20 all time in assists per game average(7.4). Tiny helped pave the way for diminutive scoring guards like Tim Hardaway and Allen Iverson after him.
5) Adrian Dantley
Braves, Pacers, Lakers, Jazz, Pistons, Mavericks, Bucks
6 Time All Star, 2 Time Scoring Champion
24.3 PPG Career
Despite being a standout at every level in basketball, including ranking 16th all time in scoring in NBA history, it took voters until the 2008 season to select Dantley into the prestigious Naismith Hall of Fame. After starring at the famed DeMatha HS in Maryland and 3 seasons at Notre Dame, he was selected #7 by the Buffalo Braves in the 1976 NBA Draft before earning ROY honors in 1977 for an impressive 20.3 ppg season. Despite a deserved reputation as a prolific NCAA and now NBA scorer, Dantley played for 7 NBA teams and holds the distinction as being the only ROY winner to be traded to a new team the following season after winning the award. But it was during his 7 year stint in Utah('78-'86) that Dantley won 2 scoring titles and made all 6 of his All Star appearances by averaging 30+ ppg for 4 consecutive seasons. Then, true to his professional career path up to that point, Dantley played for 3 teams over his final 3 seasons before retiring in 1991. Dantley served as interim coach of the Denver Nuggets last season while coach George Karl recovered from throat cancer. Dantley remains one of the most underrated and under-appreciated scorers in league history considering the fact that he had a whopping 11 seasons averaging 20+ppg and ranks among the Top 30 players in NBA history in points, PPG, FT made and attempted, and FG%.
6) Elvin Hayes
Rockets, Bullets
12 Time All Star, 1 Time Scoring Champion
21 PPG Career
Known affectionately as "The Big E" during his playing days, Elvin was one of the most talented power forwards to ever play the game. He scored most of his points on a devastating turnaround jumper that allowed him to affectively score the rock in record numbers throughout 3 decades in the NBA. Although Hayes is probably most well known for his prolific rebounding numbers(6th all time), many forget just how good of an offensive player he was. After averaging an astounding 35.8 ppg as a senior at the University of Houston, Hayes had one of the best rookie seasons in league history, averaging 28.4 ppg and 17.1 rebounds, but remarkably finished 2nd in ROY voting to future teammate Wes Unseld of the Bullets. Hayes would go on to average 20+ppg in 10 of his first 12 seasons but was always overshadowed by Chamberlain and Russell, especially early in his career. It wasn't until he was traded to the Bullets in 1973 and paired with fellow future Hall of Famer Unseld did Hayes get his due credit as an elite level big man. He along with Unseld helped lead the Bullets to 3 NBA Finals appearances, winning the Championship over the Supersonics in '78. Hayes was a model of durability over his 17 year career, never missing more than 2 games in any season, while making 12 consecutive All Star appearances. In addition to his dominating rebounding and defensive numbers, Hayes surprisingly ranks in the Top 10 all time in points and FG made and attempted.
7) Alex English
Milwaukee Bucks, Pacers, Nuggets, Mavericks
8 Time All Star, 1 Time Scoring Champion
21.5 PPG Career
When thinking of the top scorers during the 80's, the first names that come to mind are undeniably Larry Bird, Julius Erving, and Magic Johnson. But English scored more points than any other player during the decade of the NBA's greatest growth. After being under-utilized by the rebuilding Bucks and under-achieving Pacers, English came into his own after being traded to Denver for former ABA star George McGinnis in one of the most lopsided trades in NBA history. While McGinnis was out of the league by '82, English went on a tear, averaging 23+ppg for 9 straight seasons, winning the '82-'83 scoring title with a 28.4 ppg average. When his NBA career wound down after the '91 season, English played one more season professionally in Italy, doing what he did best – score – averaging 13.9 ppg. Currently, English ranks 16th in points with 25,613 scored and 9th in FG made.
8) Hal Greer
Syracuse Nationals/76ers
10 Time All Star
19.2 PPG Career
Unlike many other players on this list, Greer was the model of consistency scoring 20+ppg in eight of his pro seasons, usually as his squad's 2nd best player. Although he never won a scoring title, Greer regularly upped his game in the postseason and All Star competition. Playing alongside the great Wilt Chamberlain for many seasons in Philadelphia, he set an All Star Game record for most points in a quarter(19), earning him MVP of the '68 contest and scored a whopping 1,876 points in the Playoffs to rank among the all time leaders in postseason scoring. Greer does have a 50 point scoring game on his resume and is universally credited with being the quarterback of the World Champion '67 Sixers, one of the greatest teams of all time. Greer played in 10 consecutive All Star Games, was named to the NBA's 50 Greatest Players list, and ranks 34th all time, scoring more than 21,000 points.
9) Mark Aguirre
Mavericks, Pistons, Clippers
3 Time All Star
20 PPG Career
As a one time NCAA National POY and #1 overall NBA Draft pick in 1981, Aguirre immediately had some high expectations place upon him as a rookie in Dallas. After an above average 18.7 ppg game average in his first season, Aguirre reeled off 6 straight campaigns of averaging 24+ppg in helping the Mavericks inch closer to Western Conference supremacy. Aguirre, along with Rolando Blackman and Brad Davis helped Dallas make the postseason a then franchise record 7 consecutive seasons. Mark scored more than 13,000 points as a member of the Mavericks to rank 3rd all time behind Blackman and Nowitzki. He was traded, ironically for Adrian Dantley, to the Detroit Pistons and became a key player off the bench in helping the Pistons to back-to-back NBA Championships in '89 and '90. After 3 more seasons in Detroit that saw his role increasingly diminish, Aguirre played one final season for the LA Clippers, retiring in 1994 having scored 18,458 points, ranking among the Top 60 players all time.
10) Andrew Toney
2 Time All Star
Philadelphia 76ers
15.9 PPG Career
On the surface, Toney's numbers don't exactly blow you away. But when examining his scoring prowess in more detail and asking teammates and opponents alike, they all admit that Toney was well deserving of the nickname "The Boston Strangler." He single-handedly took over games in the Playoffs, mostly noticeably against the rival Celtics and Lakers, regularly scoring 30+ points and nailing several key baskets. Playing alongside future Hall of Famers Julius Erving and Moses Malone, Toney was a key contributor in helping the Sixers win the '83 NBA Championship. Pat Riley once commented that Toney was the most clutch player he'd ever seen, a sentiment echoed by Larry Bird. Toney was the complete package – think Ray Allen's perimeter shooting, Chris Paul's handles, along with Reggie Miller's killer intstinct. Due to developing some debilitating stress fractures in his feet and a nasty dispute with ownership, who thought he was faking injuries for a bigger contract, Toney's career was over in only 8 seasons. Unfortunately, due to a shortened career and higher profile teammates, Toney rarely receives the recognition he deserves. For those who played with and against Toney, he'll be remembered as the top clutch go-to player of his era.
Honorable Mention:
Mitch Richmond(Warriors, Kings, Wizards, Lakers, '88-'02) – 21 PPG Career
Chris Mullin(Warrriors, Pacers, '85-'01) – 18.2 PPG Career
Glenn Robinson(Bucks, Hawks, 76ers, Spurs, '94-'05) – 20.7 PPG Career
Neil Johnston(Warriors, '51-'59) – 19.4 PPG Career
Tracy McGrady(Raptors, Magic , Rockets, Knicks, Pistons, '97-Present) – 20.4 PPG Career
Allen Moll has been a lifelong NBA and NCAA College Basketball fan who watches and studies games religiously, and coaches youth basketball in his native Lehigh Valley region of Pennsylvania.  Allen has also provided content to Bleacherreport.com, Upperdeckblog.com, Cleveland.com, CSN Philly.com, Buckets Magazine, in addition to being a tenured NBA and NCAA columnist for TheHoopDoctors.com.