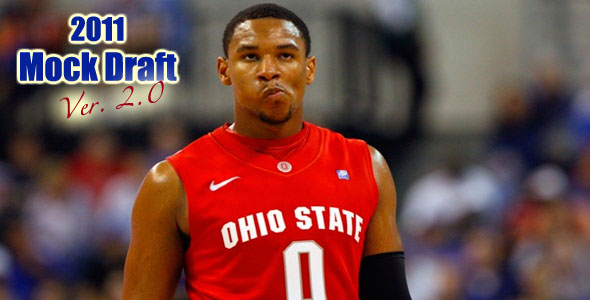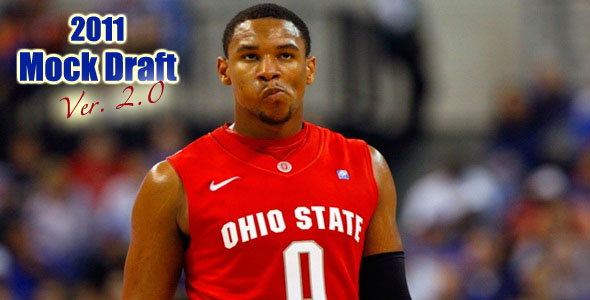 January 10, 2011 – Allen Moll
Now that the 2010-2011 NCAA season is roughly a third of the way complete, we are starting to get a clear picture of just who are this year's prime time players(to borrow Dickie V's famous saying) in college basketball.  Many of the NBA's future pro prospects overseas have also had some time to show off their skills in some live game action.
True to form from our initial NBA Mock Draft 1.0, a plethora of college freshmen like Baylor's Perry Jones, Kentucky's Terrence Jones and Brandon Knight, and Ohio State's Jared Sullinger have had tremendous starts to their college careers.  And that's not even mentioning Duke's Kyrie Irving and UNC's Harrison Barnes, who despite injury concerns and an average first few months(in Barnes' case) on Tobacco Road, remain as first round locks.
Also, don't count out a number of the game's best upper-classmen like Duke's Kyle Singler, Baylor's LaceDarius Dunn, and UConn's Kemba Walker, who arguably is at the top of seemingly everyone's NCAA POY Rankings.
Only time will tell as the remaining 2/3rds of the season has yet to be played out in college and overseas. At this point, there are many more questions than answers we will surely find out during regular conference play.  As such, these Mock Draft rankings are based on potential with this year's Draft order based on current team records. These are only my choices and not the consensus picks of all of The Hoop Doctors writers, with that said here is my 2011 Mock Draft:Version 2.0:
Draft Order
College Team
Player
Position
Physical

1.

Sac

Ohio State
Jared Sullinger
PF/C
6'8 280 lb Freshman
Jared has been a man amongst boys playing in the Buckeyes early non-conference schedule.  He has put any and all doubts to rest concerning whether he could dominate NCAA players like he once did in HS.  Although not possessing overwhelming athleticism, Jared has been spectacular averaging 18.1 ppg, 10.2 rebs, 1.2 steals, is shooting nearly 60% from the field, with 8 double-doubles, and has been named the Big Ten Player of the Week 7 out of a possible 8 weeks.  His two stand-out games of 30pts-19 rebs and 40 pts-13 rebs also put him in the mix with UConn's Kemba Walker for NCAA POY.  We'll see how he fares against Big Ten opponents.

2.

Minn

Baylor
Perry Jones
PF/SF
6'11 220 lbs Freshman
Although the Bears are struggling as of late, their fabulous freshman has been coming into his own over the past 5 games averaging 14 ppg, 9.5 rebs, and 2 blocks.  Perry remains as the most athletic and intruiging pro prospect among any NCAA freshmen but hasn't yet been able to match the outstanding production of Sullinger.  NBA GM's project him as a potential superstar on both sides of the ball, especially because of his imposing 7'3 wingspan.  On the season, Jones has scored in double figures in 9 of 11 games and has grabbed 6+ boards in every contest.  The sky is the limit and I wouldn't be surprised if his name is called as the #1 overall pick come next June as many project him as the next "Tracy Mcgrady."

3.

Wash

Duke
Kyrie Irving
PG
6'2 185 lbs Freshman
Before his unfortunate toe injury sustained in the Butler game, Kyrie was arguably playing better than anyone in the country outside of someone named Walker.  It's hard to imagine, but Kyrie has been better than expected, averaging 17.5 ppg, 5.1 ast, nearly 3 boards, 1.5 stl, while shooting 53% from the field, and an impressive 45% from behind the arc.  He also has shown an amazing ability to get to the charity stripe, taking 6 FT attempts per game, making them at an 89% clip.  With Irving, Duke is the unchallenged #1 team in the country but questions remain concerning just how serious the injury is and how long he will remain out.  Surely if the injury keeps him out the entire year, Irving will more than likely return for his sophomore season at Duke.

4.

LAC

Kentucky
Enes Kantner
PF/C
6'10 255 lbs Freshman
I'm not exactly sure if the Turkish phenom's sitting out over eligibility concerns has helped or hurt his draft stock.  In one case, it doesn't expose his weaknesses while not really showing how well he would perform against some of the NCAA's top big men.  Most scouts are probably so impressed by his domination of International competition during the Nike Hoop Summit last year(where he broke Dirk Nowitzki's scoring record) that he will undoubtedly remain a 2011 Lottery pick.  Enes has the size and strength to contribute immediately at the highest level and could be a difference maker for the right team.

5.

NJ

Lithuania
Donatas Motiejunas
PF/C
7'0 225 lbs International
While some rate Vesely or Valanciunas as the best pure International prospect, in my opinion Motiejunas should make the best pro at least in the short term.  At only 20 years of age, he has blossomed into one of the best scoring big men in all of Europe as he is currently averaging 13 ppg, shooting over 60% from the field, and more than 46% from behind the arc at the highest level in the Italian leagues.  Since withdrawing his name from last year's Draft, Donatas has added 10 lbs of muscle and has showed a bit more toughness making international scouts compare him to current NBA superstars Pau Gasol and Andrea Bargnani.  Defense and rebounding remain as areas of improvement but should be a Top 5 pick come June.

6.

Det

Kentucky
Terrence Jones
PF/SF
6'8 220 lbs Freshman
The other Jones drawing rave reviews in NBA circles is Kentucky's Terrence, who has been the Wildcats' best player in the early going.  Similar to Baylor's Perry Jones, Terrence is an uber athletic physical specimen displaying an amzing ability to score in a variety of ways, rebound at a high rate, pass with efficiency, and even handle the rock when needed.  He is averaging a team leading 17.6 ppg, 9.2 rebs, nearly 2 ast, 1.8 blks, all while shooting more than 30% from behind the arc.  Keeping in mind that Terrence is still only 18 years old, he has been at times inconsistent, sometimes struggling with his jump-shot.  With that being said, Jones is one of the NCAA's most exciting players continually dunking in traffic and showing off his impressive all around skill set.  If he leaves Lexington at the end of the season, he's a Top 10 lock.

7.

Cle

Arizona
Derrick Williams
PF
6'8 235 lbs Sophomore
The Pac-10's Pre-Season POY has been every bit as good as advertised, and then some.  Williams has become a game-changing big man who projects well at the next level.  After surprising fans with his outstanding play as an unheralded freshman last season, he has taken his game to another level as he has helped make the Wildcats relevant once again out West.  He uses his big body and at times overpowering strength to get into the paint to do most of his damage, getting to the charity stripe at an impressive rate.  He has added some range to his game from last season extending out to the 3 point arc, in addition to shooting more than 65% from the field.  On the season, he is averaging 19.4 ppg, 7 rebounds, and is making nearly 80% of his FT attempts.  If he continues to improve at such a quick rate, Derrick will be hearing his name called in the first 10 picks come June.

8.

GS

UNC
Harrison Barnes
SF
6'8 210 lbs Freshman
The fist ever Pre-Season All American as a freshman hasn't made the type of splash as we all expected but is steadily improving and has begun to show the outstanding skills that will one day make him a good NBA player.  Barnes is averaging more than 12 ppg, nearly 6 rebounds, and 2 assists per contest.  He has been tentative at times and very inconsistent with his jumper, shooting only 36% from the field and 29% from behind the arc.  Everyone knows the skills are there, we all are just waiting for Harrison to break out and become the collegiate star he will eventually become.  His outstanding length and athleticism is what NBA scouts drool over.  If he doesn't develop soon, he may be better off sticking around another year in Chapel Hill to improve his draft stock.

9.

Cha

BYU
Jimmer Fredette
PG/SG
6'2 195 lbs Senior
Jimmer has been one of the nation's best back-court players so far this season.  After testing out the NBA Draft waters last season he has improved almost every facet of his game, ranking among the Top 10 in scoring(24.9 ppg), while dropping 4.3 assists, more than 3 rebounds per contest, and shooting nearly 40% from three.  He has led his club to a 16-1 record and Top 15 ranking in the polls.  At his size, Jimmer probably projects as a point guard at the next level, although his outstanding long range shooting may convince scouts he could be an instant offense type in a 6th man role.  Even though he posesses only an average level of athleticism to play outstanding defense, he more than makes up for it with toughness and determination.  How he plays out the rest of his senior season will determine just how high teams will remain on Jimmer's draft stock.

10.

Phi

Duke
Kyle Singler
SF/PF
6'9 215 lbs Senior
Kyle hasn't disappointed as the nation's Pre-Season POY even though he has been in a prolonged shooting slump over the past few weeks of 2010.  Even though he currently ranks only third on the nation's #1 squad in scoring(17.4 ppg), he is the unquestioned leader and go-to-guy for Coach K.  As usual, he has a great all-around game as well as averaging 5.9 rebounds, 1.5 assists, 1.4 steals, and shooting 40% on treys.  Despite only average athleticism, Singler excels in every facet of the game as another in the long line of well coached Duke players.  Over the last 3 games Kyle is averaging 21 points and 7 boards a he stands a great chance of being selected as the first senior taken on draft day in 2011.

11.

Tor

UConn
Kemba Walker
PG/SG
6'0 185 lbs   Junior
Kemba's improvements from playing against NBA pros at the USA Basketball training camp this Summer have been well documented as he surely ranks at or near the top of everyone's POY rankings.  As the nation's leading scorer(25.8 ppg), Walker has proven to be a better leader this season, helping his squad to a nearly unblemished(12-2) record and a Top 10 ranking.  Kemba always excels in the open floor but has been a much more efficient shooter, making nearly 50% from the field, 40% from behind the arc, and 84% from the FT line, to go along with 5 rebounds, 4 assists, and 2.3 steals per game.  Walker has all the skills to be a star at the highest level but many are conerned about his diminutive size since he is probably a few inches shorter than his listed height of 6 feet.  But Kemba has proven to have more than enough intangibles like heart and determination as evidence of his recent game winner vs Texas.

12.

Hou

Kentucky
Brandon Knight
PG/SG
6'3 190 lbs Freshman
Although last season's Gatorade HS POY started his collegiate year a bit slow, his improvement can be seen every game as he is currently leading the Wildcats in scoring(17.7 ppg) and assists(4.0), to go along with shooting nearly 40% on threes.  He has been on a tear recently, averaging nearly 22 ppg, 5 ast, and 4 rebounds over his past 4 games.  At this point Brandon is more of a scoring lead guard but has the skills to develop into a great passer in due time.  Brandon has hinted that he won't declare for this year's draft setting up an impresive backcourt consisting of Knight and Marquis Teague on '11.  Nevertheless, if he does declare this year, he'll likely be a Top 10 pick.

13.

Mem

Duke
Mason Plumlee
PF/C
6'11 215 lbs Sophomore
Many questioned whether if Mason would step up this season with the graduations of Brian Zoubek and Lance Thomas. leaving a void in the Blue Devils' frontcourt.  Although still a work in progress, he has shown promise, starting 11 out of 14 games for Coach K this season.  While his offensive game needs further development(7.9 ppg), the defensive side of the ball is where Plumlee can make a difference.  He is currently leading Duke in rebounding(7.7) and blocked shots(1.6) as he uses his tremendous athleticism and his lanky 6'11 frame to be an excellent help defender.  Even though he is shooting nearly 57% from the field, he still needs to work on his low post game as most of his scores come on dunks, tip-ins, or while facing the basket.  Mason also could use some additional bulk to bang against the big boys in the NBA.  Another year in school could make him a Lottery pick in 2012.

14.

Pho

Kansas
Marcus Morris
PF
6'9 230 lbs Junior
Marcus may very well be the most complete frontcourt player in the entire draft.  He can shoot from the perimeter, bang down low, or play above average defense on opposing bigs, all with a PF sized body.  The only thing standing in his way from moving up is attitude since he has been either suspended or benched a number of times this season by coach Bill Self.  When on the court, Morris is capable of dominating as he currently leads the Jayhawks in scoring(15.5 ppg), as well as grabbing 6.1 rebounds and nearly 2 assists.  He also is shooting more than 60% from the field and an impresive 45% on treys.  He has scored in double figures in all but 2 contests in helping to lead Kansas to a perfect 14-0 record and a Top 3 national ranking.  Look for his stock to rise as the Jayhawks are poised to make another deep run come March.

15.

Mil

Lietuvos Rytas
Jonas Valanciunas
C
6'11 240 lbs International
At only 18 years of age, Jonas is the perfect compliment to Donatas Motiejunas on the Lithuanian National Team. Although still considered a raw talent, he has an incredible wingspan(7'4) that makes him very difficult to guard on both ends of the floor. Right now he is clearly a low block player with range on his jumper extending only to about 10-12 feet, but is reportedly dead set on becoming an elite player. Needs to improve strength and conditioning to compete against NBA bigs but has unlimited potential.

16.

Ind

Georgia
Trey Thompkins
PF
6'9 245 lbs Junior
Despite being below the radar of the average NCAA fan, Trey is undoubtedly an elite NBA prospect.  Possessing a prototypical NBA power forward physique, he is best suited in the half court as a low post player, even though he knocked down more than 30% of his 3 point attempts.  Despite average athleticism, Thompkins overmatches opponents with a through the roof basketball IQ, tremendous footwork in the paint, and a focus on dominating the fundamentals of the game.  Trey is one of the game's best offensive rebounders and scores on feathery tip ins, put-backs, and baby hooks, in addition to a being a rarity in today's game – a big man who shoots nearly 80% on free throws for his career.  This season he leads the upstart bulldogs(12-2) in scoring(18.1 ppg), blocks(1.5), and FG%(51%), while ranking 2nd in rebounding(7.1).

17.

Por

Duke
Nolan Smith
SG
6'3 200 lbs Senior
Starting at the point in absence of the injured Kyrie Irving, Nolan has been outstanding, showing NBA scouts that he can play either the 1 or 2 positions at the next level.  Since the unfortunate injury to Irving, Nolan has averaged 22 ppg, 7 assists, and 5 rebounds to help lead the Blue Devils to a perfect(16-0) record and the nation's #1 ranking.  On the season, Smith leads Duke in scoring, assists, and minutes and has proven to do whatever is needed for his club to secure another win.  From last season, Nolan has shown an increased quickness and above average first step, used to penetrate and either hit the open mid-range jumper or dish the rock.  He is an excellent half-court player but may struggle if asked to create his own shot.

18.

Den

Baylor
LaceDarius Dunn
SG
6'4 200 lbs Senior
After leading his club to an Elite 8 finish last season as a junior, LaceDarious elected to return to the Bears for his senior campaign in an attempt to go even farther and improve his draft stock.  He is one of the college ranks' best perimeter shooters and scorers as he proved recently by making 10 3 point shots in a game vs Morgan State.  After serving out a 3 game suspension to begin the season, Dunn has picked up right where he left off last season by scoring in double figures in every game and leading the Bears in scoring(23.1 ppg), to go along with 4.7 rebounds, 2.4 assists, 1.8 steals, and shooting 42% on treys, and 82% from the charity stripe.  Look for Dunn to be one of the first seniors taken as he is poised to become the Big 12 Conference's all-time leading scorer.

19.

Noh

Kansas
Josh Selby
PG/SG
6'2 185 lbs Freshman
After being forced to sit out the first 9 games of the season over eligibility concerns, the #1 rated HS player in the '10 Class hasn't disappointed by scoring in double figures in 4 of 5 games and even nailing a game winning shot to go along with 21 points in his NCAA debut.  He has been especially potent from behind the arc, connecting on a team leading 56% of his attempts.  Josh has also shown a knack for getting to the charity stripe, making an impressive 94%, missing only 1 attempt.  Surely he is still getting acclimated to the college game but look for his stock to rise as he appears to get better with each passing contest.  He currently is averaging 15 ppg, 4 rebs, 3.8 ast, 1.6 stl, and shooting 45% from the field.

20.

NY

Colorado
Alec Burks
SG
6'6 185 lbs Sophomore
Possessing excellent size to play the 2 guard at the next level, the average fan probably hasn't heard much of Burks until he recently scored a career high 36 points in upsetting Top 10 ranked Missouri.  He has shown the ability to score and hit big shots, immediately drawing comparisons to former Colorado alum Chauncy Billups.  He has a quick first step and finishes among the best in the nation in addition to being a great perimeter shooter, knocking down nearly 36% on treys this season.  He leads the surprising Buffaloes(12-4) in scoring(20.1 ppg), to go along with nearly 5 rebounds, 2.3 assists, and shoots nearly 83% from the line.  If he continues to develop and add another 15-20 lbs of bulk to a thin frame, he could become one of the sleepers of the 2011 Draft.

21.

Atl

KK Partizan Belgrade
Jan Vesely
PF/C
6'11 240 lbs International
Not many players tend to pass up a chance to earn millions in the NBA to remain another season in Europe, but the move appears to be paying off for Vesely as he has shown great improvement this season in the Euroleague.  After having his best game as a pro(22 pts, 10 reb, 4 blk) in the Euro Final Four last season, Jan has shown a more ferocious demeanor around the rim this year as he attempts to dunk on seemingly every possession playing for Partizan.  Although possessing a more slender frame, many scouts have compared Vesely to the European version of Blake Griffin as he has posterized dozens of opposing players.  He has terrific size(6'11) and length to play the SF position in the NBA although concerns remain defensively as to whether he can guard smaller quicker players.  He has improved his outside shooting to respectable levels, making 32% on treys this season.  His low post game is improving but still needs to add weight to play valuable minutes in the NBA.  Like many European players, contract issues remain as he would have to be bought out if he is to play next season in the NBA.  Although he may get selected lower than if he came out last season, he remains an intriguing prospect because of his amazing athleticism and raw abilities in his nearly 7 foot frame.

22.

Chi

Purdue
JuJuan Johnson
PF/C
6'10 220 lbs Senior
Johnson along with teammate E'Twuan Moore are helping Boilermaker fans forget about injured Robbie Hummel this season, leading them to a surprising 14-1 record and Top 15 national ranking.  While Moore has done the scoring thing, Johnson is once again dominating inside the paint, leading his club in scoring(19.6 ppg), rebounding(8.5 reb), and blocks(2.4).  While in the past his range only extended to around 15 feet, he has expanded to just outside the arc, taking and making the occasional trey at a 22% clip.  He has been arguably one of the nation's best big men, tallying 6 double-doubles and scoring in double figures in every game this season.  He still could use to add more bulk and at times still fades away to much on his jumper but has shown a more determined demeanor, dare I say even a nasty streak down low.  JuJuan can definitely help an NBA club immediately on the defensive end as he is one of the nation's best shot-blockers.  Some questions remain about his thin frame.

23.

Orl

Illinois
Demetri McCamey
PG/SG
6'3 210 lbs Senior
The Illini's top assist man the past 2 seasons has been better than expected this season.  He currently leads the Big 10 in assists and leads Bruce Weber's squad in scoring(16.2 ppg) as he has helped lead his club back to rank among the Top 25 teams in the nation.  Once a former HS teammate of current Sixer Evan Turner, McCamey has improved his ofensive production each of his 4 seasons and now is considered one of the best lead guards in the country.  He has returned a bit leaner as a senior helping to give him an added burst and quicker first step, enabling him to become a more efficient scorer and distributor.  Because he will be 22 years old and is only average defensively some teams may take a pass in favor of a younger and quicker guard like Irving or Knight, but he should remain a 1st round selection.

24.

OKC

Tennessee
Tobias Harris
PF
6'8 230 lbs Freshman
Even at only 18 years of age, Tobias has been spectacular in his freshman season playing for the Vols.  He has scored in double figures in 14 of 15 games and has 4 double-doubles on the season.  As of late, he has been clearing the glass at a high level, using his 6'8 frame to grab 10.5 rebounds per game over the last 4 contests.  Although he's struggled at times with his shooting, overall he has impressed connecting on 46% from the field, nearly 30% on treys, and 75% from the line.  He has potential to develop into an elite level frontcourt player either playing another year at Tennessee or at the next level.  He is averaging 15.5 ppg, 7.3 rebs, 1 blk, and 1 steal on the season.

25.

Utah

NC State
CJ Leslie
SF/PF
6'9 205 lbs Freshman
The future looked bright for Leslie as a HS junior playing alongside John Wall at Word of God.  After starring in his senior season at the NC prep school, immediate success came a bit slower on campus at NC State.  Although he scored 21 points in his NCAA debut, he struggled to reach double figures in only 1 of his next 5.  But Leslie has apparently adapted well to the college game as he has averaged 14 ppg, 9 rebounds, and nearly 2 blocks over the past 9 games, helping to lead the Pack to a respectable 11-4 record.  Although at times inconsistent, Leslie has excelled on the boards, grabbing 10+ rebounds in 4 games, including a 19 board effort vs Youngstown St.  Possessing through the roof athleticism, Leslie is a unique talent in that he can play either on the wing or down low but must improve his outside shooting at the next level.  Currently he either slashes to the basket or dunks on each possession.

26.

Mia

Florida St
Chris Singleton
SF
6'8 215 lbs Junior
Perhaps the most intruiging player in the entire draft, Singleton decided to return to Florida State to prove he can be a go-to-guy and to further develop his offensive game.  Long considered one of the college ranks' best defensive players, Chris has slightly improved his offensive game, leading the disappointing Seminoles in scoring(15.6 ppg). rebounding(8.3), and blocks(2.2), despite only shooting 46% from the field.  He has a prototypical NBA physique and reminds some scouts of Josh Smith or Gerald Wallace.  He can drain the occisional three(41%) but struggles to find his own shot.  Since he has improved his low post game, it is difficult to predict exactly where he will be selected as some Mocks have him as either a Lottery sleeper or missing the 1st round all-together.

27.

LAL

Texas
Jordan Hamilton
SG
6'7 215 lbs Sophomore
After an up-and-down freshman season last year, Jordan has become the go-to-guy for coach Barnes in '10-'11.  He has helped lead the resurgance of the Longhorns and a Top 20 national ranking.  He has become one of the nation's best scorers, avaraging a team best 19.6 ppg, to go along with 7 rebounds, 2.3 assists, and is shooting more than 42% from behind the arc.  He already has 8 20+ point scoring games and could help immediately at the next level.  Jordan also has excellent size(6'7) for the 2 guard position but could also play SF against smaller line-ups.  The farther Texas goes this March, look for Hamilton to possibly crack the Top 10 picks.

28.

Dal

San Diego St
Kawhi Leonard
SF/PF
6'7 225 lbs Sophomore
The 2nd year forward has helped make the Aztecs the feel good story of the NCAA season so far.  Behind his team leading 15.9 ppg, 9.6 rebounds, and 1.4 steals, Kawhi has led his club to aperfect(16-0) record and a Top 10 ranking.  Despite sometimes not having a defined position, he possesses excellent strength and length for a wing player, showing off his high motor and athleticism on drives to the basket.  He has an excellent first step, enabling him to finish with authority or pull up for a short range jumper.  On the flip side, he sometimes relies too much on his explosiveness and at times takes too many off balance shots, as well as needing to improve his perimeter shooting(27%).  It wouldn't surprise me if Leonard moves up by the time his name gets called this June.

29.

Bos

Gonzaga
Elias Harris
SF/PF
6'7 225 lbs Sophomore
Mainly due to injuries, Elias has slightly regressed from his outstanding freshman campaign last season.  Possessing excellent size as a punishing frontcourt player, he usually overpwers smaller 3's but sometimes struggles against larger 4's.  Although he has scored in double figures in 9 of 15 games, his offensive production is down across the board as he has struggled to regain his All West Coast Conference form after a debillitating Achillies injury.  On the season he is averaging 11.9 ppg, 5.5 rebs, is shooting 52% from the field, and 80% from the line.  When he gets healthy, Harris remains as a potential 1st round selection come June.

30.

SA

Tennessee
Scotty Hopson
SG/SF
6'6 195 lbs Senior
Scotty's steady progression from highly touted freshman to senior leader this season has not come smoothly.  After showing signs of imaturity and defiance towards the Vols coaching staff, Scotty has become one of the SEC's best players averaging a team leading 16.3 ppg, to go along with 3 rebounds, and shooting 37% from behind the arc.  He has outstanding physical skills to be a good player at the next level but at times appears unpolished and relies on his athleticism rather than proper technique to score the basketball.  Hopson is clearly an NBA caliber athlete, yet has been inconsistent and consequentially his draft stock has been up and down.
1st Round Sleepers
John Henson, UNC, SF/PF(6'10, 210 lbs, Sophomore) – Henson remains an intriguing prospect among NBA scouts because of his amazing combination of size and athleticism even though he hasn't yet lived up to his enormous potential.  After struggling as a freshman, John has added 15 pounds to his thin frame but still gets pushed out of the post by leaner bigs.  He is currently averaging 10 ppg, 8.4 rebounds, and a team leading 2.7 blocks per contest making him a very potent defensive player but hasn't quite figured out how to play as a frontcourt player as of yet.  I feel he could use another year or two to develop but surely some team will see his potential and select him as a fringe 1st round pick.
Travis Leslie, Georgia, SG/SF(6'4, 205 lbs) Junior – While mostly known nationally for serving up a facial on DeMarcus Cousins last season, Leslie is a freakish athlete, who has potential at the next level. While at this point he relies too much on his physical attributes, he is a tremendous backcourt rebounder, as evidence of pulling down 7 boards per night last season. He has a still developing jumper, extremely high motor, and excellent on-ball defense, to go with explosive leaping ability. Still needs to work on ball-handling and creating his own shot but GM's absolutely love his potential. Future NBA Dunk Contest contestant.
Klay Thompson, Washington St, SF(6'7 190 lbs, Junior) – After earning the "soft" label almost exclusively as a great perimeter shooterin his first 2 years in college, Klay has developed nicely into one of the nation's best scorers as evidence of his gaudy 22.2 ppg average.  His touch and body control are outstanding using the dribble-drive to get to the basket and has become far more than just a 3 point shooter.  NBA GM's are surely looking to transform him into a high scoring SF or bigger SG at the next level but still needs to add weight.  Defense will always be an area of concern because of only average athleticism but he has made great strides in his all around game to be considered a 1st round selection.
Rodney Williams, Minnesota, SF(6'7 200 lbs, Sophomore) – As arguably the most athletic player in the nation, when given playing time, Williams seemingly does something every game that both either make you say "wow" and at the same time make you scratch your head.  He plays at times with reckless abandon as he is among the very best finishers in the nation.  His mediocre numbers(6.5 ppg, 3.5 rebs) don't tell the whole story as he is the definition of raw and will undoubtedly be playing at the highest level someday.  He could use another year or two in college but some GM may select him as a high ceiling-type project player.
Rick Jackson, Syracuse, PF/C(6'9 230 lbs, Senior) – coming back for his senior season for the 'Cuse roughly 30 lbs lighter has been dramatic for Jackson who has molded himself into one of the best big men not only in the Big East but the entire country.  His improved stamina and quickness have made him a more efficient, albeit mediocre offensive player, and an elite level rebounder and low post defender.  He currently is averaging 13.2 ppg, and leads the Orangemen in rebounding(11.9), FG%(57%), and blocked shots(2.2), and is key to Syracuse's perfect record and Top 10 ranking.  Jackson is playing himself onto the NBA radar screen but how he plays the remainder of the season will determine just where and even if he gets drafted.
For more Mock Drafts from all sorts of Blogs and Analysts check out The Hoop Doctors 2011 NBA Mock Drafts Database.