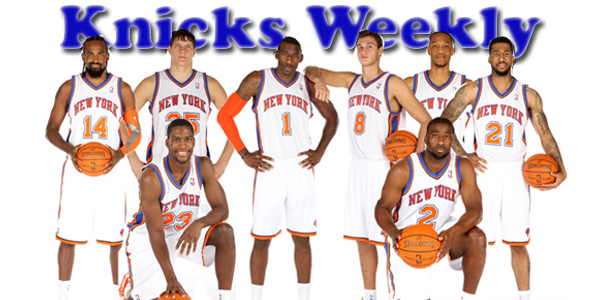 November 15, 2010 – Kevin Burke
Man, I don't even know where to begin with this one. Just when you thought these guys turned the corner you realize that wasn't the case. Not even close. Coming into last week, the Knicks had a few impressive wins and their losses were still competitive. That provided hope that despite D'Antoni's "shoot first, ask questions last" system, the team may still be able to do something special this year. If last week was any indication, that's not the case. The Knicks lost all four games last week and this losing came when two former Knicks that were traded away came back to the Garden for the first time. The Rockets' Jordan Hill and more notably, the Warriors' David Lee (cough, Donnie Walsh).
Housekeeping:
Record: 3 -7 (Home 1 – 4. Road 2 – 3)
Streak: L5
3rd place in the Atlantic Division
12th place in the Eastern Conference
Team Leaders:
Points: Amar'e Soudemire, 20.8
Rebounds: Amar'e Stoudemire, 8.1
Assists: Raymond Felton, 7.4
Steals: Toney Douglas, 2.0
Blocks: Wilson Chandler, 2.3
Tuesday, November 9 at Milwaukee: Final score, Bucks 107 – Knicks 80
This game was special because it showed Knicks faithful that this team isn't quite who they thought they were. This was the first blowout loss of the season and was very reminiscent of last year. This "contest" was over from the opening tip as the Knicks weren't competitive for a single minute in this one. Coming into this game, the Bucks were averaging an NBA worst 89.6 points per game. Apparently no one told them that because they almost had half of that in the first quarter en route to 41 points in the opening stanza, connecting on 13 of their first 15 shot attempts. Brandon Jennings was shooting less than 40% on the year coming in and had 12 of those 41 1st quarter points.
Towards the end of last season, who could forget that ugly fall that Andrew Bogut took that destroyed his right arm? Well, if you remember, that happened against Phoenix and who happened to be in the vicinity for the Suns? Amar'e Stoudemire (although he didn't cause that fall), so naturally he was booed just about every time he touched the ball.
This one was over very early, but once again the Knicks shot too many 3s. The threw up 23 of them while only connecting on 7. Amar'e led the way with 19 points, but the man shoots too many jumpers. He is very fierce down low so I don't  know why the majority of his time is spent shooting Js.
Not a good showing for the Knicks, but here was the highlight of the evening as Bill Walker welcomes Bogut back to the court:
Wednesday, November 10, home vs. Golden State: Final score, Warriors 122 – Knicks 117
Personally, I circled this date on the schedule coming into the season because it marked David Lee's return to the Garden. Naturally, it was emotional for Lee as he strategically came out for his pregame shoot around hours before the game, when no fans were in the building yet. The crowd didn't actually see Lee until he ran out of the tunnel with the rest of the Warriors right before the game started.
Hours before the game, David Lee sat down with Tina Cervasio of the MSG Network for the obligatory "Is it going to be emotional tonight?" interview. During that interview, Dave really opened up and said a few things that I didn't expect his to say. The main thing was that he was disappointed at how the Knicks handled his departure as there wasn't much communication. He was hurt because when free agency started, the Knicks were coveting the LeBrons, Wades and Boshes of the world. With a very stern look on his face, Lee said, "What did LeBron, Wade or Bosh every do for the Knicks?" in reference to him not understanding why they wanted to get rid of him. I hear him loud and clear and agree with him 200%.  I'll forever think that they should've kept Lee and he told The Hoop Doctors before free agency that he wanted to stay in New York so of course he had a little resentment.
Lee was met with a nice ovation when he was introduced and the Knicks did the right thing by honoring him with a video on the big screen during a timeout in the 1st quarter in his only trip to the Garden this season.
Amar'e essentially replaced Lee so heading into this game I hoped that he wouldn't get outplayed by Lee. Good thing that he didn't. Amar'e had a season high 33 points and 10 boards and Lee had a season high points 28 and 10 boards. Lee saved his best offensive production for his return to the Garden.
Wilson Chandler was finally inserted in to the starting lineup after being nothing short of spectacular off the bench this season, and had 27 points. Unfortunately for him, David Lee rewarded him with an inadvertent elbow that knocked out one of his front teeth.  Chandler replaced Timofey Mozgov in the starting lineup and made the Knicks smaller as Amar'e started at the five. Good move by D'Antoni because I'm not sure what Mozgov's purpose in life is as of right now.
The game was close down the stretch but it reminded me too much of years past where they tease you by coming close before losing a close game.
Stephen Curry and Monta Ellis had 25 and 22 respectively in this track meet disguised as a basketball game.
Friday, November 12 at Minnesota: Final score, Timberwolves 112 – Knicks 103
Heading  into this game, I thought it was a definite win for New York and it looked good as the Knicks were up by as much as 21 in the third quarter. Then Kevin Love went crazy. Love had 11 points and 15 boards in the 3rd quarter on way to a record setting 31 point and 31 rebound effort . This was the NBAs first 30 – 30 game since Moses Malone in 1982. Amar'e was in foul trouble and played only 54 seconds in the 3rd quarter and that's when Love went to work. Coincidence?  I think not. But still, a hell of a performance from Love.
Michael Beasley had 35 points and 6 boards and the Knicks were basically beat by these two guys. Watching the game seemed like you were watching 5 on 2 during the Wolves' comeback.
The Knicks shot 47% from downtown in the first half but shot 30% overall in the second half which contributed to the collapse.
This was definitely the worse loss of the season for the Knicks because it came against a team that they should've beat, jumped out early, and let them comeback.
Sunday, November 14, home vs. Houston Rockets: Final score, Rockets 104 – Knicks 96
The Rockets were without two starters: Aaron Brooks and Yao Ming, so this should've been a win for the Knicks.  Not the case.
The Knicks finally dialed back the 3-point attempts, shooting only 16. That doesn't sound like a lot but when you consider the fact that they've shot 25+ multiple times this year, I'll take it. Even though the number of 3s were down, they still shot too many Js overall.
The Rockets led by as many as 19 and outscored the Knicks on fast breaks 20 – 10. It seemed like a lot more that that actually. New York actually had 7 blocks in this game but only 15 assists as a team because they weren't moving the ball that well.
Amar'e had 25 but Luis Scola had 24 for Houston. Scola has an old-school type of game but it is very effective and he set the tone for Houston. Kevin Martin had 28 as well. They Knicks didn't seem inspired in this game and the result showed it. Earlier in the week David Lee got his revenge and Jordan Hill did here too. He had 6 points and 3 boards in 16 minutes of work.
General Thoughts
I've always been someone who usually thinks coaches get too much credit when things go right and too much blame when they don't. However, I have to make an exception here. The Knicks shoot 3s at an alarming rate and when they fall, they're tough to beat as we saw in Chicago. When they don't fall, then you have a problem. They shoot so many 3s because it's the "Mike D'Antoni system" that we always hear so much about. Well, the system is flawed apparently. Coach D'Antoni needs to highlight the teams strengths offensively and not give the green light behind the arc so much. Thirty percent of the Knicks field goal attempts are 3s and they connect 33% of the time. You do the math.
The Knicks commit the 5th most turnovers in the league, giving it away 15.3% of their possessions. But at the same time, they are 6th in forcing turnovers, taking the ball away 15.2% of the time. I bring that up because while, on the surface, it may seem as if the D'Antoni up and down system causes a lot of turnovers, they make up for it on the other end so it cancels out.
Amar'e needs to play on the block down low more and stop shooting so many Js. He's power forward, not a shooting guard and wish someone would tell him that. He's been consistent offensively but let's grab some boards. I'm one of the few people who believes he is a max player so it would be nice if he helped out my claim. Also, his 20ppg needs to be 25.
I'd like to see some more Bill Walker. In the little that he plays, he proved to be effective and is always hustling. Rony Turiaf suffered a sprained knee earlier in the week, but he needs more minutes too. Anthony Randolph was supposed to be the gem in the David Lee trade. At 3ppg, I'm going to out on a limb and say that's nonsense.
This week is the annual early season Western road trip. They travel to Denver Tuesday night, then Sacramento on Wednesday, Golden State on Friday and the Clippers on Sunday before heading home. The way things have gone lately, I'll take just one win. I'll fill you in next week.
If you're looking for your everyday, predictable basketball talk, then go somewhere else, because Kevin Burke of The Kevin Burke Project brings provocative, thought provoking content about basketball as only he can. Kevin also hosts The Hoop Doctors weekly podcast show, which you can subscribe to for free on iTunes. Follow Kevin on Twitter and Facebook