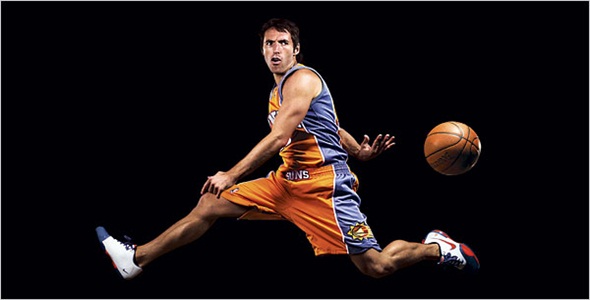 November 15, 2010 – Allen Moll
That was the headline that appeared as front page news in The Phoenix News Times recently claiming to have reliable sources telling them that on November 15th, the 2 time NBA MVP will quit playing basketball and embark on a political career in his native Canada. While the article served it's purpose of helping to sell newspapers, it is entirely a hoax, as the News Times decided to try their hand at satire rather than report the news.
The long, and at times very detailed article ran November 4th and is still generating quite a buzz across the net as the average fan considers most things they read in a reputable newspaper as well,……….news.
The total farse of a story is actually quite funny if taken in the right context, as it claims that Nash's ultimate goal is to become the Prime Minister of Canada, but is starting small by running for mayor of his hometown Victoria, British Columbia. They even claim that Steve has closed on a house in the town since he has to establish residency before running for office.
The supposed revelation isn't that far fetched since former Sun Kevin Johnson is the current mayor of Sacramento, California  and Nash has already been awarded an honorary Doctorate of Laws degree in recognition of all of his athletic achievements and philanthropic efforts. He remains one of Canada's most famous and most accomplished athletes. He also was awarded Canada's highest civilian honor, the Order of Canada, a star on the Walk of Fame, has thrice been named Canadian Athlete of the Year, and became the first NBA player in Olympics history to carry the torch and light the Olympic cauldron.
Suns chairman Jerry Colangelo and coach Alvin Gentry have even reportedly threatened to fine current teammates if they breathed word of Nash's impending defection back to his homeland.
You can check out the entire article at the Phoenix New Times site.
Funny stuff, but maybe the New Times should stick to reporting the news and leave the satire to sites like the Onion.com.
Allen Moll has been a lifelong NBA and NCAA College Basketball fan who watches and studies games religiously, and coaches youth basketball in his native Lehigh Valley region of Pennsylvania.  Allen also provides content to Bleacherreport.com, Upperdeckblog.com, in addition to being a tenured NBA and NCAA columnist for TheHoopDoctors.com.