November 11, 2010 – Dr. Anklesnap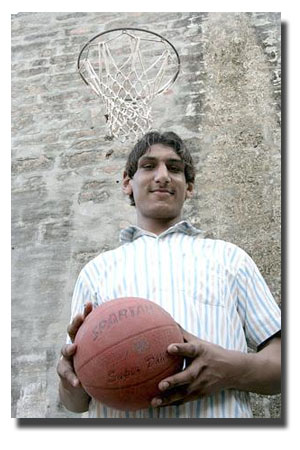 Meet Satnam Singh Bhamara of India. He's not your average 14 year-old as he stands over 7 feet tall. He was always fairly tall for his age but grew an absolutely ridiculous 15 inches between the ages of 10 and 14. The unimaginable height is in his genes, as his father Balbir Singh Bhamara, stands a whopping 7 foot 2 inches tall and his grandmother is 6 foot 9 inches tall.
Amazing, right? Think of the potential with that kind of height, especially if this guy continues to grow and develop his co-ordination and skill set. The combination of height and love for the game this guy is displaying at only 14 years old is already having some bloggers comparing him to a young and hyped up Yao Ming out of China.
But he's not just relying on his height to cruise by in his basketball leagues. He's working hard to develop his skill set and learn everything he can about the game. Hoopistani has been tracking his progress and development.
"After blazing his way through the Punjab inter-school and junior leagues, Satnam began to collect his international credentials. He represented Indian in the FIBA Asia U16 Championships at Malaysia in November 2009. Back home, he took Punjab to the gold medal of the National Youth Championships at Trichy (Tamil Nadu) in June." [via]
AOL Fanhouse writer Tim Potvak has some great insight into how a 14 year old kid from a tiny farming community on the outskirts of Pakistan came to know about the sport of basketball, let alone get involved in playing at an organized level:
"Then his father (7'2" tall) told him a story, a sad story about long-ago missed opportunity, about a game he knew and loved but never was allowed to play, a game he quietly wanted his son to try, offering a window to a whole different world.

There were no basketball courts in his village to play on, no cable television to deliver the games, so his father sent him away, where others could teach him to play, quickly discovering he had an incredible gift, an athleticism very unusual for someone growing so fast and so large, leading him down the path he walks today."
North American scouts and coaches that have seen this kid play have had nothing but great things to say about him, many of them noting his excellent work ethic. Some even theorize that it is Satnam's farming upbringing that has set him up to succeed, as he has learned from a young age the value of hard work and preparation.
This giant has size 22 feet, loves what limited NBA action he has seen on television, has chosen Kobe Bryant, Shaquille O'Neal, and Dwight Howard as his favorite players, and loves his Nike Basketball shoes from "Ameeka", as he puts it.
Could Satnam be the first player from India on an NBA roster in the history of the league? Everyone in India is pulling for him. They are hoping that he will do for India Basketball what Yao Ming did for China Basketball just a short time ago.
I guess we will all just have to wait and see…after all he is only 14.