March 15, 2010 – Dr. Dime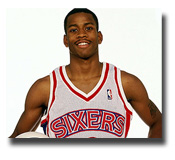 Since the career of the "pound for pound" greatest scorer the NBA has ever seen, Allen Iverson, is clearly winding down if not over, we thought we'd take you back to the NBA debut of Iverson in this edition of Vintage Video. In his very first NBA game, Iverson put up an impressive 30 points and 6 assists against another talented rookie Ray Allen and the Milwaukee Bucks. Allen Iverson was the first overall pick in the 1996 NBA Draft by the Philadelphia 76ers and Ray Allen was taken 5th overall by the Bucks. Watching this video will give you a taste of the lightning quick speed Iverson used to possess.
Don't forget to check out The Hoop Doctors new weekly video podcast series with Kevin Burke. Episode 003 published today covers your week that was in the NBA, discussion about the playoff race, why people hate Duke, the real meaning of the NCAA tournament for star players, and much more. You can also subscribe to the podcast for free through iTunes to catch it on the go on your iPod or iPhone, by clicking here.