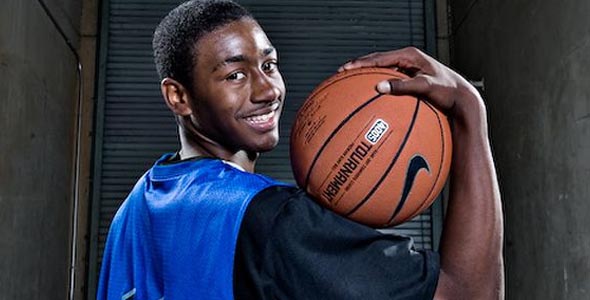 July 24, 2009 – Matt Anaya
Matt graduated from Southern Illinois University at Carbondale in May of 2007 majoring in TV Production. Matt is currently a writer at StaticMultimedia.com, TheBleacherReport.com, NationalSportsNation.com, SportsMixed.com, FanFever.com, Filmcatcher.com, and TheHoopDoctors.com. Matt will provide you with insightful wit and an eager eye for sports.
For more Mock Drafts from all sorts of Blogs and Analysts check out The Hoop Doctors NBA Mock Drafts Database!
These are only my choices and not the consensus picks of all of The Hoop Doctors writers, with that said here is my 2010 Early Edition Mock Draft – Top Prospects:
Draft Order
College Team
Projection
Position
Physical

1.

Kentucky

John Wall
PG
6'4", 190 lbs
Wall was the consensus number one high school recruit in the nation last season. He draws comparisons to Derrick Rose but the NBA has never seen a player like Rose and I do not think two players of that magnitude will come in three years. He is a very explosive PG and likely one and done.

2.

Lithuania

Donatas Motiejunas
PF
7'0″, 215 lbs
Obviously, I do not know much about Donatas but what I saw and what I read was very impressive. Silky smooth ball handler, good passer, and a nearly flawless release on his jumper. He is more athletic than Nowitzki and Bargnani and those two make nearly $30 million combined. In 10 years, with his skills Donatas may be one of the best players in the NBA.

3.

UNC

Ed Davis
PF
6'10", 230 lbs
A very polished 20 year old who can do a lot of things in the paint already. He has a nice understanding of the game (I mean, he does go to UNC) and plays good post defense already. Nice athleticism, wants to play in the post. Think Chris Webber/Rasheed Wallace.

4.

UNC

J.Henson
PF
6'10", 200 lbs
A do it all big man a la Amar'e Stoudemire. Henson cannot jump like Amar'e but can run and aggressively throw it down. His game should flouish at UNC.

5.

Wake Forest

Al Aminu
SF
6'8", 220 lbs
Very similar game to Luol Deng. Long lanky kid who is trying to figure out his game at the college level. Luol has tried to figure his game out at the NBA level and that has not helped. Another year in college will help him learn the game at a slower rate and help his growth. A versatile forward who can shoot, dribble, jump, rebound and play defense.

6.

Georgia Tech

Derrick Favors
PF
6'9", 230 lbs
Comparisons to Josh Smith are silly. No one at Smith's size can jump like that. Favors is a very nice athlete but cannot do much more. I am looking forward to seeing how his game (or lack thereof) translates to the next level. His athleticism helps him have one of the highest ceilings.

7.

Texas

Avery Bradley
G
6'3", 180 lbs
Supremely athletic combo guard. Loves contact and dunking on people. Can finish above the rim and is the only college guard that can possibly defend Wall. He is a lot of fun to watch and is similar to Rajon Rondo, Derrick Rose, John Wall, and Russell Westbrook. One of my new favorite players.

8.

Ohio State

Evan Turner
SF
6'7", 200 lbs
Another one of my favorite players eligible for the draft. A perfect size for a G/F and reminds me of Paul Pierce. He cannot leap like some of the kids but he plays under control and can create his own shot. One of the favorites to win Big 10 Conference POY.

9.

West Virginia

Devin Ebanks
SF
6'8", 200 lbs
WARNING!! High Flyer Alert!! If there was anyone to compare to Josh Smith, Ebanks is the guy. He can hammer from anywhere on the court and you better look out otherwise you are going on Youtube. He cannot do much else but his athleticism helps his potential.

10.

Oklahoma

Willie Warren
SG
6'4", 200 lbs
The dudes got handles. He can shake and bake and create his own shot. If he were one to three inches taller he would be a top pick. I do not think he is better than what Ben Gordon was, as BG could get to the rim in college but has struggled to in the pros. Willie cannot attack the rim in but he sure can create. If he develops an ability to pass he could become one of the top prospects.

11.

Georgetown

Greg Monroe
PF
6'10"
Smooth big man with a wide variety of skills, although jumping is not one of them. He can shoot, pass, rebound, dribble, and knows how to play his position. He is still learning the low post game but his size helps his potential.

12.

Iowa State

Craig Brackins
PF
6'10", 230lbs
Skilled big man, similar but much more athletic than Greg Monroe. He can shoot and is more of an athletic scorer than post scorer. He can do a lot of things GMs covet for a big man. Zach Randolph type.

13.

Fresno State

Paul George
SF
6'7", 190 lbs
We've all seen his dunk but did you know the kid can shoot? He can and his game is still developing, as he was not a big time talent. He is only a sophomore and can literally do it all. I do not know how this kid slipped through the cracks of a big time program.

14.

Kansas

Cole Aldrich
PF
6'11", 250 lbs
A bruiser who does not mind contact but is limited offensively. He likes to bang because he knows the skilled ones do not. He will rebound and make some put backs but the offense should not go through him. His potential is very limited and he has awful FT form.

15.

Florida State

Solomon Alabi
C
7'1", 230 lbs
Needless to say a presence on defense. Very limited offensively and very little is known about Alabi. He may become a bust in a matter of months.

16.

Kentucky

Patrick Paterson
PF
6'8", 223 lbs
An athletic big man with nice touch around the hoop. High FG% and a nice offensive game. Tends to fall asleep on defense but that may change with a good team and great coach. Antonio McDyess type.

17.

Georgia Tech

Gani Lawal
PF
6'9", 230 lbs
A nice PF prospect with a nice motor and good athleticism. Good at running the floor and rebounding but needs to work on his post moves, although I don't think I have ever seen a 20 year old with nice post moves.

18.

Kentucky

DeMarcus Cousins
PF
6'10", 250 lbs
A bruiser and the exact opposite of his frontcourt mate Patterson. He likes contact and dunking on people but that was in high school. Great length, nice frame, needs to add strength and loose fat. Lacks athleticism and will over power the smaller but will struggle vs. the big boys.

19.

VCU

Larry Sanders
PF
6'10", 220 lbs
Another kid that should not have slipped through the cracks of a major D1 team. Very very long and a tremendous shot blocker. Better known for his defense and ability to run the floor. Has great shot blocking skills but is very limited offensively. He loves to dunk and play defense so he is very fun to watch.

20.

Texas

Jordan Hamilton
G/F
6'7", 210 lbs
Another very nice Longhorn freshman. Long, physical, very aggressive, and attacks the rim frenetically. Loves to dunk and who cares about defense when you can do the things he can do on offense. Very fun to watch.

21.

Kansas

Xavier Henry
SG
6'6", 210 lbs
A very nice athletic guard. Very strong and athletic but he likes to shoot, perhaps depending on his jumper too much. He needs to be more aggressive and he may blend in at KU.

22.

Oklahoma State

James Anderson
SG
6'6", 200 lbs
A much heralded prospect that has not done much but he's got a perfect body for the NBA. He can shoot with the best of them and will likely lead the Big 12 in scoring this season. He needs to develop more of an all around game but if Jodie Meeks was drafted, James will be too.

23.

Georgia Tech

Iman Shumpert
PG
6'5", 190 lbs
A very nice PG prospect. Has great size and playmaking ability. Can create for others and will be great with the bevy of athletes around him at GT. He is the type of player that may shoot up the draft boards.

24.

Cincinnati

Lance Stephenson
G
6'5", 200 lbs
AKA "Born Ready", the kid is an enigma but his game is legit. He can score as good as any freshman in the past ten years (except LBJ23) and he loves to bully kids that try to guard him. His attitude is always questioned but that may change when he hits the elite level. He can do it all on offense but will need to grow up.

25.

Ohio State

William Buford
SG
6'5", 200 lbs
The kid can score. He can shoot, dribble, run, pass and do it all on offense. He needs to be more assertive this season and show what he can really do. He had an unimpressive freshman year and his sophomore season is important to his draft stock.