May 28, 2009 – Michael Pina
Michael Pina is a senior at the University of Delaware about to graduate with a BA in English concentrating in Journalism. Once he graduates in May, He'll be living in his hometown of Boston.
What was supposed to be the most gratifying night of Rashard Lewis' life ended up being one of his most uncomfortable. Sitting alongside 14 other NBA hopefuls at General Motors Place in Vancouver, Lewis obviously had high expectations as to where he'd be selected. His hometown team, the Houston Rockets, had picks 14, 16 and 18 in the first round and it looked like a dream situation might materialize. Instead of taking the 18-year-old, Houston selected Michael Dickerson, Bryce Drew and Mirsad Turkcan. To assume the Rockets would want one of those picks back would be like saying Rafael Palmeiro might like a mulligan with congress.
Lewis did what he thought was the unthinkable and sat in the green room for hours, waiting until the Seattle Supersonics selected him with the 32nd overall pick (with the 27th overall pick, Seattle picked Vladimir Stepania). He claims he can remember all 31 players picked before him.
After nine out of sight seasons in Seattle, Lewis signed a controversial max contract with the Orlando Magic that had basketball aficionados across the league scratching their heads. Why make someone who isn't your franchise player your most highly paid? While he's too old and one dimensional to be a true franchise player, against the Boston Celtics, Lewis was unquestionably the best player in a blue jersey. He played like a superstar, carrying his team offensively for extended stretches and the defending champions really didn't have an answer for him.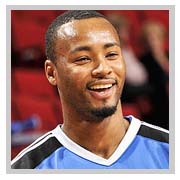 In game six at Philadelphia, with no Dwight Howard and no Courtney Lee, Lewis scored 29 points; finishing 11-22 from the field and hitting 0 three-pointers. It was an incredibly impressive performance that allowed him to showcase his multifaceted offensive game. Like Shawn Marion and Reggie Miller, Rashard Lewis has an unorthodox shooting form. He cocks the ball back like he's loading a catapult and fires the basketball like a flaming orb; it's nearly unblockable, especially his turnaround on the baseline.
The two-time all-star has unquestionably answered all doubters and finds himself an essential piece on a possible champion. Lewis has put together one of the most improbable careers the league has ever seen, and other than Dirk Nowitski, he's the biggest match up problem in the NBA. In the conference semi-finals, Lewis showed his ability to dominate on the offensive end, blowing by hefty, slower forwards and backing down smaller guards. Standing 6'10", Lewis finished this past season as the tallest player in NBA history to lead the league in three-pointers made; he clearly can stretch the floor and with Ben Wallace and Anderson Varajao guarding him in the eastern conference finals, the mismatch factor goes into another stratosphere.
Looking extremely passive and almost disinterested through the first three quarters in game four, Lewis suddenly awoke in the fourth quarter, hitting several key jumpers down the stretch including a go-ahead, turn around three pointer with four seconds left. Not too many players can shake off a bad night and come up big with a series turning shot like that.
With the Orlando Magic taking a commanding lead against Cleveland and positioning themselves for their first finals berth in 13 years, expect Rashard Lewis to continue his story of resilience all the way to a championship ring.