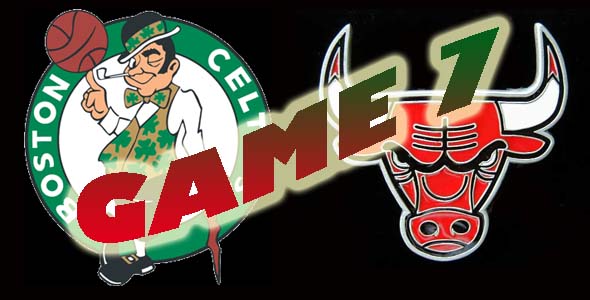 May 2, 2009 – Dr. Anklesnap
Who else is gitty with excitement for tonight's Game 7 match between the Chicago Bulls and the Boston Celtics? I haven't been able to do much all day except think about the game, and lay on the couch catching up on episodes of Prison Break recorded on my PVR to try and make the time go by faster.
This series has been one of the most exciting playoff series i've seen in years. And it's in the FIRST ROUND! There is evidence to this fact as the NBA just announced that Game 6 broke a record for the most viewers they have ever had for an NBA first round game. Ummmm…yeah. That's big time. God loves this sport, and I have a feeling he's going to give us a treat tonight. It's heartbreaking to think that one of these teams after tonight will have lost and has to go home.
Most of you would have seen the Kanye West Amazing video done for the NBA Playoffs 2009. But the NBA has been so thrilled with the response to this first round Celtics-Bulls battle that they have just released a version of the song and video specifically to advertise Game 7 tonight.
If this video doesn't get you pumped for tonight's game, you better check for a pulse. Oh, and by the way, i'll be tweeting my thoughts on the game live on Twitter. If you want to chat about the game with me live, follow me on twitter. Button is on the right sidebar here. Talk to you soon! Enjoy the video, I certainly did: