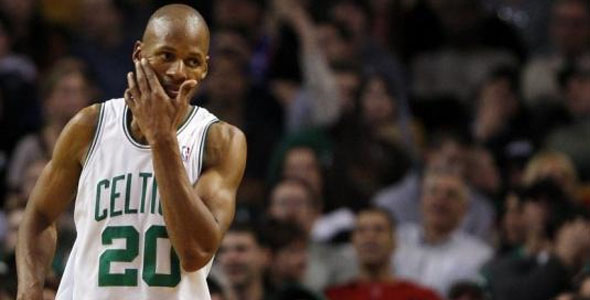 April 13, 2009 – Dr. J-Water
I've got nothin' but love for Ray Allen a.k.a. Jesus Shuttlesworth. He's by far the purest jump shooter the league has ever seen. The guy is pure water. But did y'all see the action he gave Anderson Varajao in the junk with his elbow yesterday? In what was probably one of the biggest let down games of the season for the Celtics, getting massacred by the rival Cavaliers on National Television, Ray's frustration must have boiled over.
But to elbow a guy right in the balls, knowing he's not wearing any protection? That's just a low blow, literally. For now we are disappointed, but we will love you again if you and the Celtics put your act back together come playoff time. If you missed the game, check the replay of the Ray Allen Elbow.