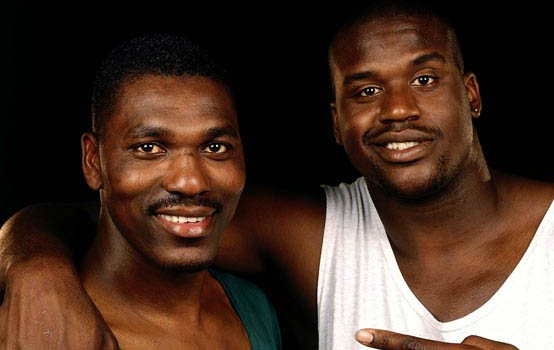 January 29, 2009 – Dr. J-Water
Heading into tonight's game in Phoenix between the Suns and their long time rivals the San Antonio Spurs, Shaquille O'Neal was trailing the great Hakeem 'The Dream' Olajuwon by a mere 5 points on the NBA's All-time Scoring List. Midway through the first quarter Shaquille O'Neal spun on Tim Duncan and threw down a powerful two-hander for the sole possession of 7th on the All-time list.
Shaq is one of the greatest centers to ever play this game. Some may even say the greatest. But whichever side of that fence you sit on, one thing is for sure and that is Hakeem Olajuwon is a Hall of Fame center who Shaq respected. Hakeem Olajuwon is one of the only centers in the NBA to ever go head to head with Shaq in a series long battle and come out on top. I don't mean just winning the games, but head to head outperforming Shaq to the point of bringing Shaq down to size. And Shaq's a large large man. When it comes to Centers Shaq respects the great ones, George Mikan, Wilt Chamberlain, Bill Russell, Kareem Abdul-Jabaar, Hakeem Olajuwon, and Tim Duncan. So I found it quite fitting that Shaq was putting a post move on one player from that list (Tim Duncan) while scoring to make history passing another great from that list (Hakeem Olajuwon) in the NBA scoring department.
If you want to track Shaq's progress this season moving up the NBA All-time Scoring Chart, here is the stats heading into tonight's game against the Spurs:
Kareem Abdul-Jabbar  

38387

Karl Malone               

36928

Michael Jordan           

32292

Wilt Chamberlain        

31419

Moses Malone            

27409

Elvin Hayes               

27313

Hakeem Olajuwon        

26946

Shaquille O'Neal          

26941
I'm a tad bit embarrassed to say this but when I think back to all of the great battles between Shaquille O'Neal and Hakeem Olajuwon, especially that Houston sweep of the NBA Finals when Shaq was with Orlando, I can't help but think about that funny Taco Bell commercial they did together. Here it is if you don't recall:
And even though the head to head matchup between O'Neal and Olajuwon that most people will remember is the Olajuwon waxing of O'Neal to lead the Houston Rockets to a sweep of the NBA finals for the title in 1995, Shaq certainly had his moments against 'The Dream' as well. Here is one that comes to mind: