November 24, 2008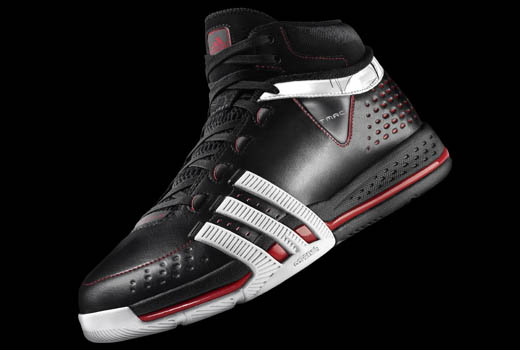 You'll all probably remember when we brought you info on adidas' Kevin Garnett Team Signature (TS) "Commanders". Well adidas was kind enough to send us a pair of the other style of adidas TS footwear to test out and review. They are called "The Creator's". We received the Tracy McGrady (TMac) versions of the creator's but you can also find Chauncey Billups or Gilbert Arena's signature shoes at retail now for $130.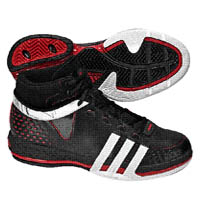 Whenever we test out kicks on the court, we make sure we get in a good pick-up run rather than just shoot around, because we want to get a good feel for the support and durability. Although the "TMac Creators" are nice and light guard style shoes, they have a surprising amount of ankle support on their cut. They aren't as low as some of the other guard kicks that other companies market. For someone prone to ankle injuries like myself that is just asking for a season ending injury! So with that in mind I absolutely love the height cut on these TMac's. At first I thought the Creators were a bit stiff, but realized they very quickly mould to your feet and provide a nice cushiony bounce to your step. As far as performance I'd definitely give these a 4 out of a possible 5 stars.
As for the looks, that is a matter of preference, but as you can see for yourself in the pictures the colorways on the TMacs are super slick! Gotta love the finishing touches like the TMac hologram on the ankle, too!
Features:
•adiPRENE Plus – a resilient cushioning material used to protect the forefoot and provide a responsive, dynamic toe-off
•ForMotion™ – a freely moving heel system that provides a more smooth and natural touchdown and transition from heel to toe.
•Forefoot outsole wrap for increased stability during lateral movement
•The rubber outsole mix allows for quick reactions, jumping, sprinting and lateral movements, adidas outsole materials used for indoor surfaces are always non-marking
For a listing of shoe release information on the latest kicks check out our "KICKS" section.