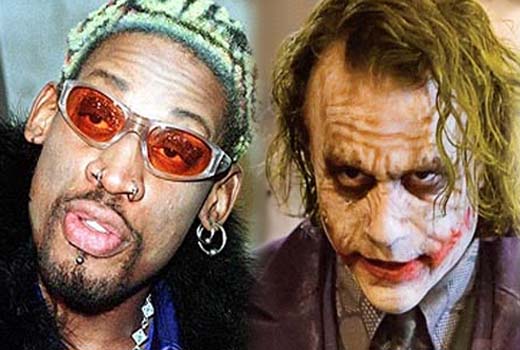 July 18th, 2008 – Dr. Dime
As most die hard movie fans did last night, I was flocking to the nearest cinema to catch the much awaited premiere of the next installment in the Batman series, The Dark Knight. We have been hearing so much about how dark and disturbing Heath Ledger's final performance was before he died of a drug overdose, I have been dying to see it. Let me tell you it does not disappoint. Aside from being a bit long (2.5 hrs) the movie was the best yet in the series, and one of the best movies I've seen this year. Since all I do is eat, sleep, and breathe basketball just like most of you die hard fans that are reading this post, I couldn't help be have thoughts of Dennis Rodman slip into my consciousness every time I looked at the on screen images of the hardly recognizable Heath Ledger with his died hair and grotesque make-up.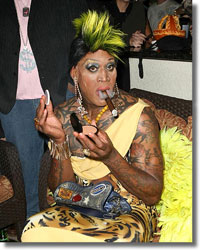 If Dennis Rodman was the joker of the NBA, I'd have to say that Michael Jordan was the Dark Knight himself, Batman. Throughout their short stint together on the greatest NBA team to ever take the court (referring to 72 win season), Jordan regularly was the only person that could keep Rodman under control and focused on the task of doing what it takes to win ball games. But back to Rodman for a minute. The man (loosely using term) will undoubtedly be remembered for his crazy hair styles, wacky piercings and tattoos, and most importantly his public displays of cross dressing. At first thought, most people consider Rodman to be a complete and total nut job. Then at second thought you have to ask yourself "what would you do, and how far would you go for absurd fame and fortunes?" Is all publicity good publicity?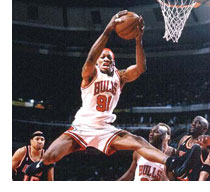 On the court however, Rodman was always one of the fiercest competitors the league has ever seen. In my view Dennis Rodman was the greatest rebounder of all time, and certainly the very best on the defensive glass. He is the only player in NBA history to lead the league in rebounding for 7 straight seasons! Where most rebounders would focus all their mental energy on perfecting the box-out, Rodman took the technical aspects of rebounding to a whole new level. What most people don't realize about Rodman is he was a true student of the game. Bulls trainers have admitted on many occasions that Rodman would spend hours before games studying the opposing players top shooters to gauge whether the bulk of their misses came off the rim short or long, and whether or not the had a particular spin or rotation that caused the ball to lead right or left. Every basketball player at any level knows that if the shot is long it will more than likely come off the rim long, and if it is close it will come off short. But Rodman would spend countless hours studying his opponents shooting style to see if they had high arching shots that would come off high or if they had flat shooting strokes that would come off the rim long and hard. This review of the opposing players shooting styles had dramatic effects on his rebounding and timing for going after loose balls.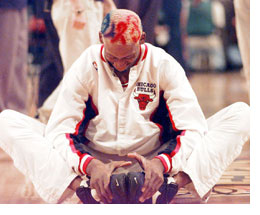 One other interesting aspect of Rodman's rebounding technique was outlined briefly in his 2006 book "I Should Be Dead By Now" in which he mainly chronicles his drinking and gambling escapades. Rodman mentioned in the book that he used the principles of his judo training to ensure he was using his speed and agility advantage he had over larger players he was boxing out. Rodman stated that he would try to get arms and legs purposefully tangled up with the player he was boxing out so that when the ball came off the rim he would be able to feel their position and use his speed to untangle himself faster than they could to go after the rebound. In his book Rodman states
"It was like a judo move, y'know? I was using my leg strength as leverage, and using his leg strength against him. It was like wrestling without the take downs….now the guy was more interested in whipping my ass than getting the rebound…next thing he knew I'd be sweeping the boards and firing an outlet pass to Ron Harper…"
You may need to take this last bit with a grain of salt, as Rodman has been known to say some wacky things in his time, but regardless of what 'methods' he used to consistently put up such large rebounding numbers you have to admire his determination. Being a great rebounder takes grit, determination and a borderline obsessive approach to the craft.
Dennis Rodman, for the purposes of this post aka "The Joker", was the definitely most neurotic and obsessive person for the job. But when it came to rebounding, he was also the most successful.