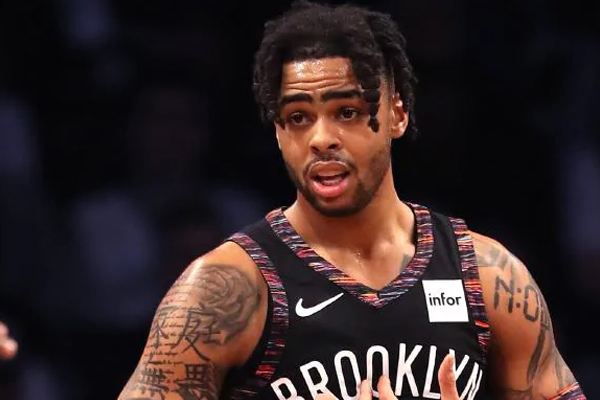 D'Angelo Russell is ecstatic to be joining Stephen Curry and the Golden State Warriors next season. He spoke with reporters Monday night for the first time since being moved.
"Honestly, I'm excited," Russell told ESPN's Nick Friedell. "I'm excited more than anything.

"I think it's a huge opportunity just to take another step and learn from a good group of guys that have done – and marked their way in this league, so I'm super excited."
Russell signed a four-year, $117-million max contract this offseason as part of a sign-and-trade that sent Kevin Durant to the Brooklyn Nets. Brooklyn also sent Shabazz Napier and Treveon Graham to Golden State in the deal.But even through all his excitement about joining the Warriors, Russell knows there's a possibility that his stint in San Francisco may not last very long.
At this point he can't be dealt again until December 15, but there has been speculation that Golden State will eventually flip him for other assets.
"That's the business of it," he said. "It is what it is. You put yourself in a position to go somewhere for a long period of time, and it may not be what it is a year later. And that's the business.

"I've come to a realization of that, and I understand that, so whatever situation I'm in, I know the business side of it, so we'll just see. I can't predict it."
Russell is coming off an All-Star season. The 6-foot-5 guard averaged 21.1 points and 7.0 assists per game last season, but was no longer a priority in Brooklyn with Durant and Kyrie Irving joining the fold.