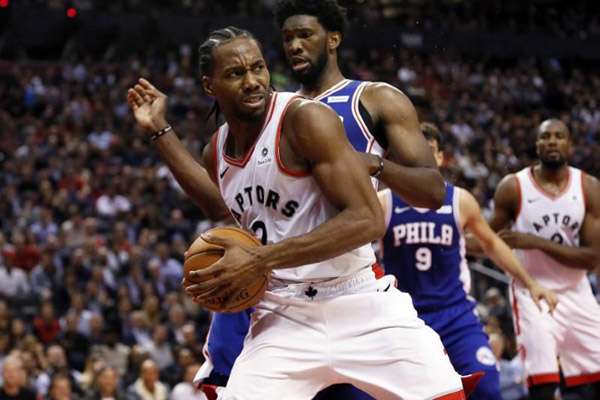 Kawhi Leonard has yet to play both nights of a back-to-back this season, and it doesn't seem like the Toronto Raptors are itching to bring him off said maintenance program.
From the Toronto Sun's Ryan Wolstat:
The Raptors will continue easing Kawhi Leonard into the mix, which likely means a night off on Monday in Utah.

Leonard has been sitting parts of back-to-backs so far and the team plays a night earlier in his native Los Angeles against the Lakers and in Phoenix on Friday.

"(His body) feels good, just don't want to overdo it too early since I missed out on a year, it's just injury prevention, so just not playing back-to-backs for right now," Leonard said after participating in an optional practice on Thursday.
This is just smart injury management. Leonard missed almost all of last season with a right quad injury, and while he's been playing well, there's no point trying to push him too hard, too soon. The Raptors are already dominating the Eastern Conference standings, and keeping him fresh will only help come playoff time. San Antonio Spurs head coach Gregg Popovich would probably be following this back-to-back rule if Leonard never left and he was fully healthy.
Plus, by slow-playing Leonard's recovery, the Raptors are perhaps building some invaluable goodwill.
It seemed like Leonard and his team were annoyed by the Spurs' handling of his injury last year. Maybe he felt they were trying to rush him back. By prioritizing his long-term health—something San Antonio admittedly always seemed to do, at least before last year—the Raptors are ensuring they're going out of the way to make him feel confident and healthy. That can only help them when they try to re-sign him over the summer.