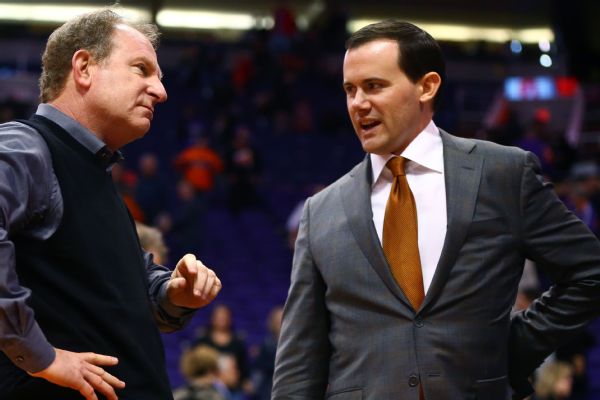 Former Phoenix Suns general manager made an appearance on ESPN's The Jump Monday afternoon, during which time he discussed the end of his tenure with the team.
Apparently, the organization fired McDonough over the phone, a move that caught him by surprise. Here's an excerpt from his interview in which he describes thinking he had more time to put the finishing touches on the roster (via For The Win's Andrew Joseph):
"I viewed the roster as not fully completed, and we were working on a few trades to upgrade the team — I guess we thought I had more time than I ended up having. The timing of it was surprising, but Robert (Sarver) thought it was best. I was there five-plus years. I appreciate the opportunity he gave me."
You can view McDonough's segment here:
All in all, this is pretty diplomatic stuff from McDonough. Still, you can sense that even he was taken aback by the move, just the like the rest of us.
There's no question he cobbled together a debatable offseason, what with the signing of Trevor Ariza, the trade for Ryan Anderson and the protracted search for a point guard that had yet to yield anything tangible. (For the record, we cannot throw his decision to max out Devin Booker via an extension as questionable. Some team would have thrown him a three- or four-year max offer sheet next summer.)
But, at the same time, it was a weird decision by the Suns to fire McDonough after he did all that. Like, if you're going to shake up the front office, you typically want to give the new regime ample opportunity to leave their mark on roster. Nothing about Phoenix's setup right now seems permanent—though I'd bet on James Jones sticking around for some time. But the Suns also gave McDonough the ax after he renovated the roster and factored into the hiring of a new head coach.
Viewed through that scope, McDonough probably thought he'd get to start—or even finish–the season before having to worry about receiving his pink slip. Alas, it turns out he was wrong.