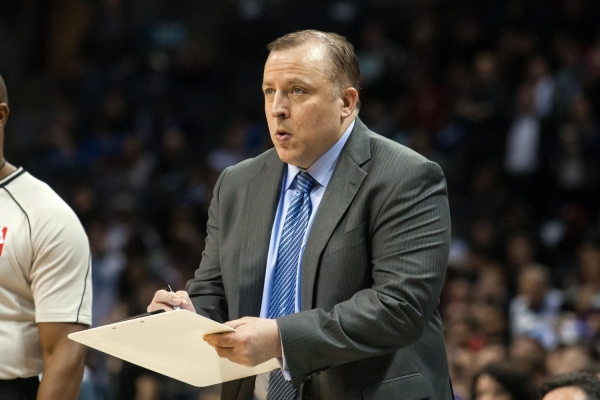 The Minnesota Timberwolves remain committed to trading disgruntled superstar Jimmy Butler, which means they're at great risk of missing the playoffs altogether. They're a fringe candidate with him, so they'd be lucky to make it without him. And given how publicly their drama has unfolded, it's easy to wonder whether the Timberwolves will even give Tom Thibodeau a chance to finish out the season.
This just in: They will.
That's what owner Glen Taylor told the Star Tribune's Sid Hartman:
Thibodeau has three years left on a five-year contract worth about $40 million. Is he coaching for his job?

"No, no, the only thing now is that we are starting to play games and I am asking him to concentrate on coaching," Taylor said. "GM Scott Layden will help to see if any trades are available."
This is a good stance to take for the time being. The Timberwolves won't accomplish much by trading their best player and firing their coach/president in the middle of season. That type of unrest doesn't always translate to improvement without an offseason and training camp, and it's not entirely clear whether Minnesota would be able to supplant Thibs with an appreciable upgrade.
Plus, there's also value in letting Thibs see this through. He built most of this roster and its problems, right down to Butler. That risk has since blown up in his face and he hasn't done a good job developing Andrew Wiggins or Karl-Anthony Towns, but he helped end Minny's playoff drought last year. He should get the chance to see whether he can pick up the pieces, even if it doesn't look like he can.
Should things go belly up or Taylor not be happy with the progress made following Butler's departure, the Wolves can reassess their options over the summer.