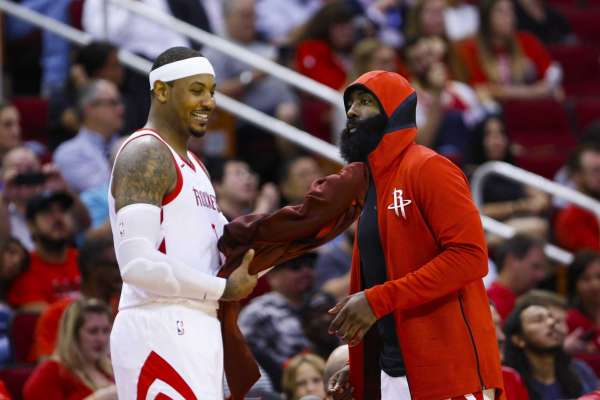 The Houston Rockets lost to the Utah Jazz on Wednesday night, but Carmelo Anthony may have won…a spot in the starting lineup.
Here's what head coach Mike D'Antoni had to say after the game, via The Athletic's Kelly Iko:
MDA says Carmelo Anthony could start Friday vs. the Clippers, adds that nothing is set in stone regarding lineups right now.

— Kelly Iko (@KellyIkoNBA) October 25, 2018
We should probably emphasize the "nothing is set in stone" aspect of this statement. But hey! Even having D'Antoni think about the swap right now is progress for Anthony. It might also be the right move for the Rockets.
Not only did Anthony drop 22 points off the bench against the Jazz, but James Harden left the game early with a hamstring injury. If he isn't ready to rock against the Los Angeles Clippers on Friday, the Rockets could use another scorer in the starting five to pair with Chris Paul. Melo is no Harden, but he can put the ball in the hoop when he's going.
Plus, Houston's defense has not been great defensively to start the year. Inserting Anthony into the starting lineup isn't going to make them any better, but it might help them double-down even more on the offensive side, where they've been hot and cold from beyond the arc. And if you're not going to be a top-10 defensive team, there's some merit to exacting every possible edge out of your offense. If the Rockets buy Anthony's performance on Wednesday as something closer to his normal, moving him to the starting five further weaponizes that opening lineup.